The day their mom, Ashley, went to the hospital to deliver her, they packed an overnight bag to go to their grandparents' house until the whole family was back together again – this time, plus one.
542 days later, that finally became a reality.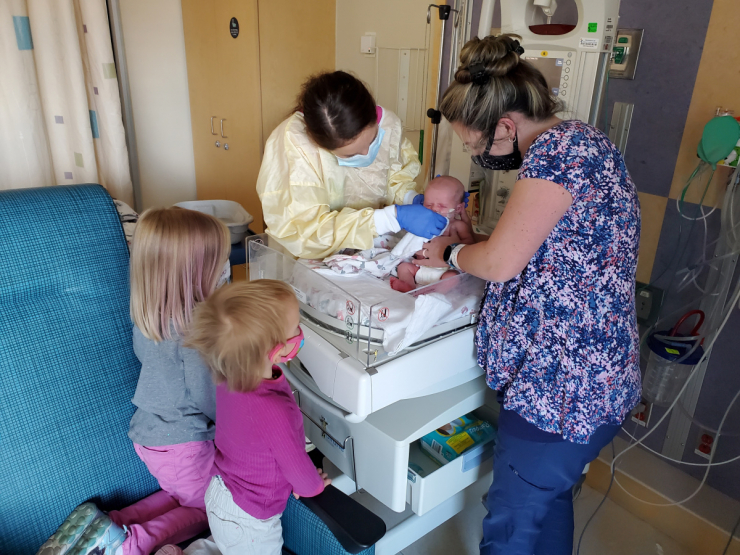 It all started with some breathing difficulties. But since the newborn, Autumn, was born a week early and at altitude in Colorado, it wasn't particularly concerning initially. She spent a couple of days in the NICU getting extra help but still struggled.
"One of the NICU nurses got a call that the newborn screening had a flag," Ashley told us. "By the time she got on the phone with the immunologist, we knew something was wrong."
Autumn was flagged for SCID, or severe combined immunodeficiency. It's a very rare genetic disorder that causes life-threatening problems with the immune system. If you ever saw the movie Bubble Boy, that's one representation of SCID.
Immediately, they transferred Autumn to a high-isolation bone marrow implant floor at Children's Hospital Colorado, a highly-controlled environment to limit exposure to people and germs.
She would stay there from the end of November 2021 until May 14, 2023. 542 days.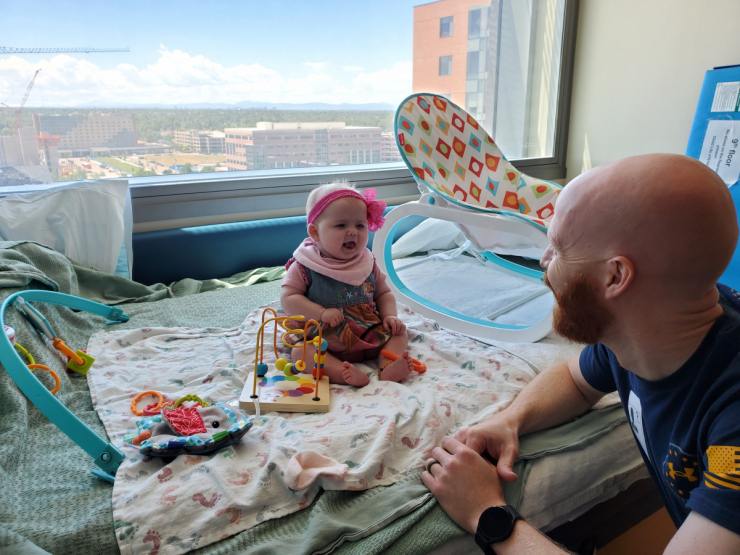 "It was hard on all of us," said Autumn's dad, Josh. "But I felt so bad for my older two daughters who went to bed one night and woke up to everything being different."
Early in that time, Autumn was accurately diagnosed not with SCID, but with a subset of DiGeorge Syndrome, an ultra-rare disorder that causes immune system challenges just like SCID. The rarity is 1 out of 6000 births; however, Autumn's type of DiGeorge Syndrome is only 1% of that number.
They would have a lot of moments of unfortunate but fortunate experiences, and this was one of them. It was unfortunate that Autumn had DiGeorge, but fortunate that her subset presented much differently.
Here's how it works:
Autumn's body manufactures all three types of white blood cells - T, B, and NK. (Fortunate.) It's the second step of the process that's the problem. Autumn was born without her thymus, a critical gland that trains T-cells. Without it, she cannot fight viral infections. (Unfortunate.)
It was so serious that Josh and Ashley were forced to live split lives. Autumn would need a thymus implant if she stood any chance of living her life outside the walls of a high-isolation hospital room, but the average wait time was between six months and two years.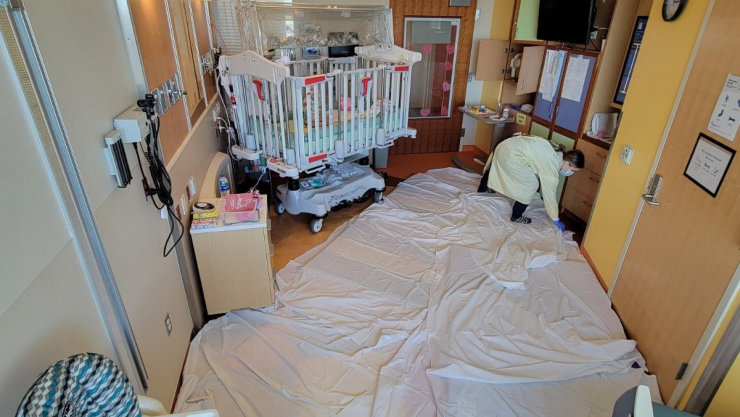 Despite their heartfelt objections, Josh's mom decided to retire early so she could split time at the hospital with Ashley, ensuring one of them was always with Autumn while Josh continued to work and care for their two older daughters.

Ideally, he would have worked remotely from the hospital when possible, but because of the isolation requirements, that simply wasn't an option. Because of that, he was unable to spend much time with Autumn.
"We were fortunate that our insurance allowed us to keep Autumn at the hospital while we waited for her thymus implant," Josh said. "But it was unfortunate that our family had to be split to make that possible."
There was one other major problem. The risks were big even if Autumn was approved for a thymus implant. That treatment option was approved just 10 weeks before she was born, and only two hospitals in the world are currently doing the procedure. The first is in London - the second is at Duke in North Carolina.
Josh and Ashley were facing a very difficult decision. Continue living their lives as a family split apart, or take the risk to remove Autumn from isolation and fly her to Duke?
They looked at their youngest daughter and knew what needed to be done. After the decision was made, they waited for a year for her name to be called. Finally, they heard the news: Autumn was getting her implant.
She was placed in a car seat with a bubble cover that completely encased her. An ambulance drove her and her medical team to a small airport, where she was transported by private plane from Colorado to North Carolina.
"The flight was so nervewracking, because the BMT floor is very controlled," Ashley said. "I was able to ride with her, but there wasn't enough space for Josh. It was surreal because she'd never been outside of that hospital before. We just wanted to get her there and limit her exposure as much as we could."
When she arrived, Autumn was transported to a similar isolation floor at Duke, and soon after, the surgery began.
Thankfully, it was a success, and once Autumn recovered and was flown back to Colorado, the next phase of the waiting game began. Doctors told Josh and Ashley that the next six months would be critical for them to keep Autumn healthy. That was just over 160 days ago now.
They also gave them a long list of things to consider before Autumn could be released to their home.
"There are three big things to think about," said Josh. "The first is phones. Phones are gross, so we have to be really careful with those. Then it's clean clothes, just making sure we're not carrying anything on us. And finally, masks. It's really important to keep our nose and mouth covered so we aren't spreading germs."
It really goes well beyond that, too. Those are just the basic, everyday things they consider to keep Autumn safe. Even while we were on our Zoom call with the family, we could pick up snippets of their life that they've become used to now. At one point, Ashley mentioned toys that Autumn could play with that had been sanitized and toys that she could not touch until they were properly cleaned. It touches every inch of their lives in ways most of us wouldn't think of.
Part of that checklist for Autumn to come home included new carpeting in her bedroom.
"Aside from work, my wife, kids, and I are isolating as much as possible, as even a common cold could wreak havoc on Autumn's system," said Josh. "If we want to function in any way as a family, we have to keep all of us healthy, as well as our family who helps with Autumn and our other two daughters, Skye and Noelle."
"We have to replace the floors in the upper level of our house where the bedrooms are, as our doctors have let us know that since it's old, and we had cats before, the current carpet is not safe for Autumn. With hard isolation, likely no work, and some medical expenses, we will not be able to float all of this ourselves, which is why we are reaching out for financial assistance to replace the flooring to make the home environment safer for Autumn."
With your one-time and monthly donations, Chive Charities was able to fund the cost of new carpet installation to make Autumn's home safer for her. We also provided a year of carpet cleaning to help lift some of that burden from Josh and Ashley's shoulders. In total, the impact was $4,717.
At Chive Charities, we see the impact of grant items, big and small. The wheelchair-accessible vans often take the spotlight, but seemingly insignificant things like new carpets can also deliver a life-changing moment.
Case and point - Autumn's first time at home, enjoying the feel of carpet for the first time.
Looks pretty comfy and squishy to us!
542 days and Autumn was finally back home, right where she belonged. Their lives have been full of fortunate and unfortunate moments, many of which would have knocked most of us to our knees.
It's unfortunate that someone so small could have to deal with so much, but she's fortunate to have a family willing to do whatever it takes to help her, including letting Chive Charities do what we do best. From carpeting and ADA vans to everything in between, help us continue to change more lives. DONATE HERE.