But when it comes to the brain, too much of a good thing can be life-altering. Our brains all have ridges or folds - called gyri - that help increase the surface area of the cerebral cortex and form brain divisions. When the brain has too many folds, and the folds are unusually small, it creates a condition called polymicrogyria. The name literally means too many (poly-) small (micro-) folds (-gyria) in the surface of the brain.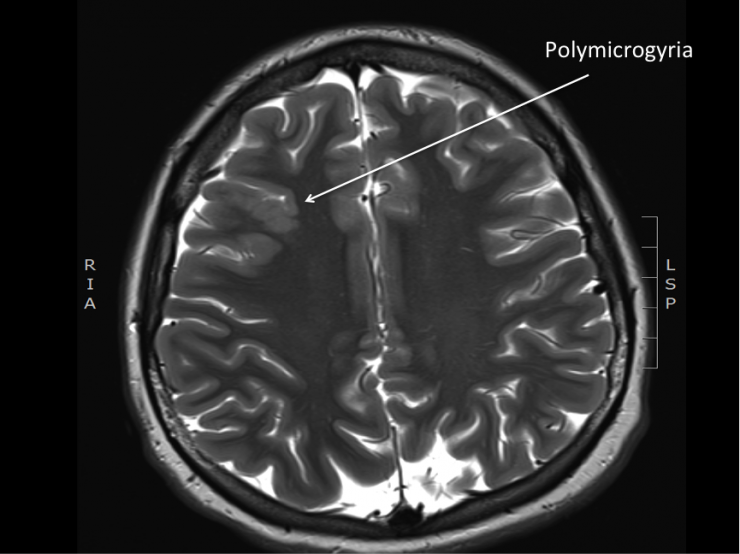 Too much of a good thing.
Nearly a decade ago, Isaac was born into a family who had waited years for him. After their eldest son, Alex, was born, parents Vanessa and Robert suffered the loss of two babies. Isaac's arrival was the answer to many prayers, and Alex was especially excited to be a big brother.
"During my pregnancy, the doctors were monitoring the baby for hydrocephalus," Vanessa told us. "I ended up having 4D ultrasounds nearly every six weeks."
While nothing worrying was discovered, Vanessa and Robert were prepared for Isaac to receive some additional medical attention, just to be safe. So when he was born and then taken to the NICU, they were concerned but not overly anxious or fearful.
"All we were told was that he had some breathing issues and needed to be monitored," Vanessa said. "I assumed everything else was ok, so I went down to feed him. On my way out, the nurses stopped me and told me that Isaac had a seizure. After conducting numerous tests, we were also told that he had polymicrogyria (PMG)."
The news was shocking, and the family grappled with how to handle this diagnosis. What would the future look like for Isaac?
Shortly after the diagnosis, a panel of medical professionals met with Vanessa and Robert and explained more about PMG, and answered all of the questions they could. The answers to others would be up to Isaac.
Isaac would later receive a feeding tube at six months old and the family learned of another diagnosis of his for a rare, multisystem disorder called Kabuki Syndrome. They learned that his PMG impacts three areas of his brain: parietal, frontal, and perisylvian, causing seizures, global developmental delays, mobility challenges, hearing loss, and feeding difficulties. Only the occipital lobe - or the visual processing center - was unaffected.
"When Isaac was born, I taught in an elementary school," Vanessa explained. "While finishing up the current school year, I researched multiple daycares to find one that could handle a child with a g-tube. During my research, I learned that over half my paycheck would go towards daycare for Isaac and his older brother, Alex."
"We also knew that one of us would have to take off work for the multiple doctor and therapist appointments for him. My husband and I then decided that it was time for me to be a stay-at-home mom so I could take care of the boys and get Isaac to his appointments."
So that's exactly what she did.
Since he was three months old, Isaac has received physical therapy, occupational therapy, and speech, in addition to the family supporting his complex day-to-day medical needs. Recently, they added musical therapy to the list, which he happens to love. He's also mildly obsessed with bath time and Elmo. ("Elmo is his love language," Vanessa laughed).

It's a lot, but it's worth it. He's worth it.
As the two boys grew up together, their bond grew stronger, too.
"They have such a special relationship," Vanessa shared with us. "They really love each other - and even yell at one another when they're upset," she chuckled.
That brotherhood has had a huge impact on Isaac, and perhaps something even more profound for his brother. Alex volunteered as a "buddy" in Isaac's special needs classroom, helping the teacher and spending time with the kids in class. It's something he now really enjoys and his presence is felt by each of the students. They love having him there, none more than Isaac.
Brothers just gotta be there for each other. And these two are.
Isaac is now in the fourth grade and weighing in at a very impressive 50 pounds, especially for a kid who was once diagnosed with failure to thrive. Add in his 60-70 pound wheelchair and you have the recipe for a back-breaking combination.
Just ask Vanessa who suffered two ruptured discs in 2005 and deals with flareups from constantly lifting Isaac and his wheelchair.
"(Since his retirement from the Marines in 2004), my husband works a lot of hours to provide for our family," said Vanessa. "I usually take Isaac to appointments by myself and I've had to cancel some of them due to the flareups. As he's getting older and heavier, we realized it was just going to get harder and harder to transport him with our current van."
She was searching around online for information on purchasing a wheelchair-accessible van when she stumbled across Chive Charities. And seeing as how we're basically the Oprah Winfrey of wheelchair-accessible vans, she stumbled across the right place.

When we met this inspirational family - including a special cameo by Alex and Isaac - they had just received their new van, only made possible by the amazing community of ten percenters who are always there for the underdogs.
Through the support of those donors, we purchased a gray 2019 Dodge Caravan for Vanessa, Robert, Alex, and Isaac for a total impact of $45,575.
As we talked with the family over Zoom, Vanessa shared some details about the night of the van delivery.
"It showed up a little later in the evening, around 9:00pm," she said. "I told Robert I wanted to take it out for a spin and Alex asked me if he could come along. When we were driving back home, he turned to me and said, 'Mom, God has really blessed us with what we need to take care of Isaac. It's hard sometimes to take care of him, but our lives are so much better because he's in them.'"
Pretty profound for a young teen, isn't it? There's just nothing quite like the bond between brothers.
Too much of a good thing. That statement just doesn't apply to our Chive Nation community. You can never have too many people supporting the underdogs. You can never have too many men and women doing whatever they can to be there for veterans, first responders, and rare medical individuals like Isaac.
You can never have too many donors who so selflessly give back to create life-changing impact for families in need.
Your ongoing monthly donations are the lifeblood of everything Chive Charities can do. This time, it was the 181st van we've provided to a family in need since 2012. Too much of a good thing? Not for the incredible recipients we serve. Become a member of the greatest community out there and DONATE HERE.