That's how Kate describes post traumatic stress. It's pretty intense. If you read Chris' story last week, you learned how the symptoms of PTSD, caused by brain chemistry COMPLETELY OUTSIDE THE CONTROL OF ANY HUMAN, can derail relationships, work, hobbies, pretty much anything that requires cognitive function.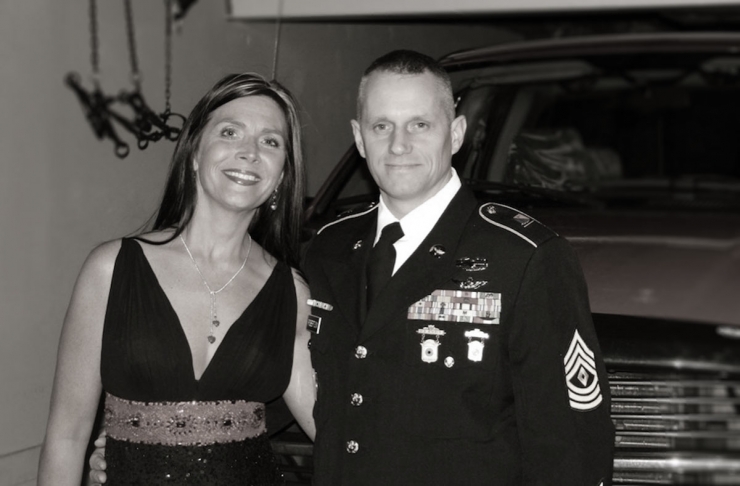 Kate describes herself as a proud American – she's a military wife, the granddaughter of two WWII veterans, and believes she owes her freedom to those who serve our country. Her decision to deploy to Afghanistan as a Department of Defense employee in 2010 was simple. It was her turn to serve.
Lots of everyday heroes accompany our military into combat zones, including military police, postal clerks, legal staff, and chefs. Kate's job was to open the exchange stores, where service members shop for food, uniforms, whatever they need. She wasn't there to fight the enemy, but to support those who risk their lives for hers.
It's hard to imagine from this pic, but outside those walls was a war zone. Her days were long and there wasn't much rest.
"I worked 15- to 18-hour days, six days a week, and my life revolved around two very distinct, but different, lists: my daily to-do list and my survival list once the incoming alarms went off. The horrors of war most definitely outnumber the good days," Kate explained.
Her time in Afghanistan ended in 2012 and Kate returned to her family, convinced the sights and sounds, emotions and darkness of those days had stayed behind in Bagram. She knew the symptoms of post traumatic stress, but denied her own depression, paranoia, anger, or social anxiety were quite that bad.
"I was constantly looking over my shoulder in public, my heart would pound in my chest, one second I would be standing in the store and a second later I was in the middle of Afghanistan with the mortars going off all around me," she admitted. Reluctantly, and with the sole intent to prove her husband and mom were wrong, Kate finally saw a doctor.
She was broken. She was disconnected from her kids. Suicide was on the table, but somewhere deep within, her soul was fighting for her. For them.
Therapy started helping. Not immediately, not without monumental effort. The idea of a PTSD-trained service dog came up and Kate was hopeful. Her husband John, an active duty serviceman, assumed Kate would qualify for the dog as a military spouse, and set out to make it happen.
It wasn't easy. Did you know neither D.O.D. employees nor military spouses qualify for most service dog agencies?
John and Kate kept searching, but as each door closed, her depression, anxiety, and hopelessness increased.
Obviously, it turned out pretty great. After months of searching, Service Dogs for America answered the call. There was just one catch – and you knew this was coming – it would cost almost $20,000. That's a really big catch, y'all. Service Dogs for America has one of the most thoughtful, intentional placement processes and an extensive training program, which makes them one of the more expensive agencies. We know it's worth every penny.
Chive Charities and Service Dogs for America love pairing amazing humans with equally amazing canines, and we were thrilled to help. Donations from the Green Ribbon Fund covered the placement and program costs, giving Kate one less thing to worry about.
Buckshot joined the family in February, and, well, I'll let Kate tell you how it's going.
"Every once in awhile, a dog enters your life and saves it. He is confident and relaxed when I cannot be; absorbs anxiety and depression by leaning in close and reminding me he's here and I'm present in the moment; watches my back and blocks when someone approaches; quiets my nightmares by laying his head on my chest. He is the barrier that allows me to be confident rather than small." That sounds perfect.
It's taken some time, but Kate is making progress. She's been to her daughter's volleyball games, watched her son rock climbing, gone hiking, and accidentally went to the mall and into a store before she realized she was supposed to feel anxious and panicked in public. Her confidence is returning, and her family can tell. She's so grateful.
"How does one say thank you to those who gave me my life back? I'll be forever changed because of your donations, and the words 'thank you' pale in comparison to the emotion that comes with my 'forever,' but I'm eternally thankful."
If you're reading this, you clearly have a good heart, or at least an affinity for dogs, which are both great qualities. This is your chance to do more, to help people just like Kate, and dogs just like Buckshot, and to make the world 10% happier. Click HERE to become a monthly donor. You'll love it, I swear.