One of those families was Nicole and Summer, a mother-daughter-duo from Villa Park, Illinois.
At this same time in 2013, when Summer was just six years old, she failed a routine eye exam at school. Her mom, Nicole, was slightly concerned, not that anything serious was going on, but more that her daughter might need eyeglasses or corrective lenses. She took Summer to the eye doctor for what they suspected was a detached retina before being sent to a specialized eye clinic for further testing.
"As soon as the nurse looked at her eye, she knew," Nicole told us. "I could see it all over her face that something was wrong, and she told us to get an MRI as soon as possible."
For Nicole, "as soon as possible" meant that day, and a few hours later, she sat with her daughter in the hospital room as teams of doctors streamed in and used words like, "brain tumor," "cancer," and "chemotherapy."
From school.
To the eye specialist.
To the hospital.
To a life-altering cancer diagnosis.
All in less than 48 hours.
"They told us that Summer had an optic nerve glioma. When they left the room and it was just the two of us again, my mind was completely blank," Nicole told us. "I couldn't make sense of what I heard. Summer was in elementary school with her friends on Monday and on Tuesday, we were discussing port placement and chemo treatments. I just couldn't wrap my head around it."
What's even more unbelievable is how six-year-old Summer handled the news. "She was listening to the doctors and asking them questions about what was happening to her and what they were going to do," Nicole said.
How many of us could handle something like that so gracefully? How many of us could do that as a first-grader?
The tumor cost Summer total vision in her right eye and most sight in her left. And while she's almost completely blind, Summer still sees - just in a different way than you might think. She stays upbeat and positive, focusing on the things she can control. When doctors discuss her prognosis or treatment, she studies their expressions and asks thoughtful questions about her care.
Because Summer looks for the good, that's what she sees.
I mean, cmon. Who looks that happy in a hospital bed?!
Not long ago, Summer was in a class with other visually-impaired students and those who needed some extra help. She was frequently bored and understimulated, so instead of letting that continue, she pushed to be allowed to attend mainstream classes and her request was approved. Summer is a straight-A student.
"Other than me, Summer's the biggest advocate for herself," Nicole told us.
In the eight years since her initial diagnosis, Summer has been on and off chemo, the most recent treatment ending in September 2020. During one particularly bad year, Nicole couldn't wake her up and keep her that way for longer than a minute or two. After an emergency MRI, she was diagnosed with hydrocephalus and the first of many shunt surgeries was performed.
"With everything Summer has gone through - hospital admissions, infections, shunt replacements, blood and platelet transfusions, numerous rounds of chemotherapy - she's become very weak and now requires the use of a wheelchair full time. Most recently, her strength has depleted and it's harder for her to self propel, so she now has a power wheelchair."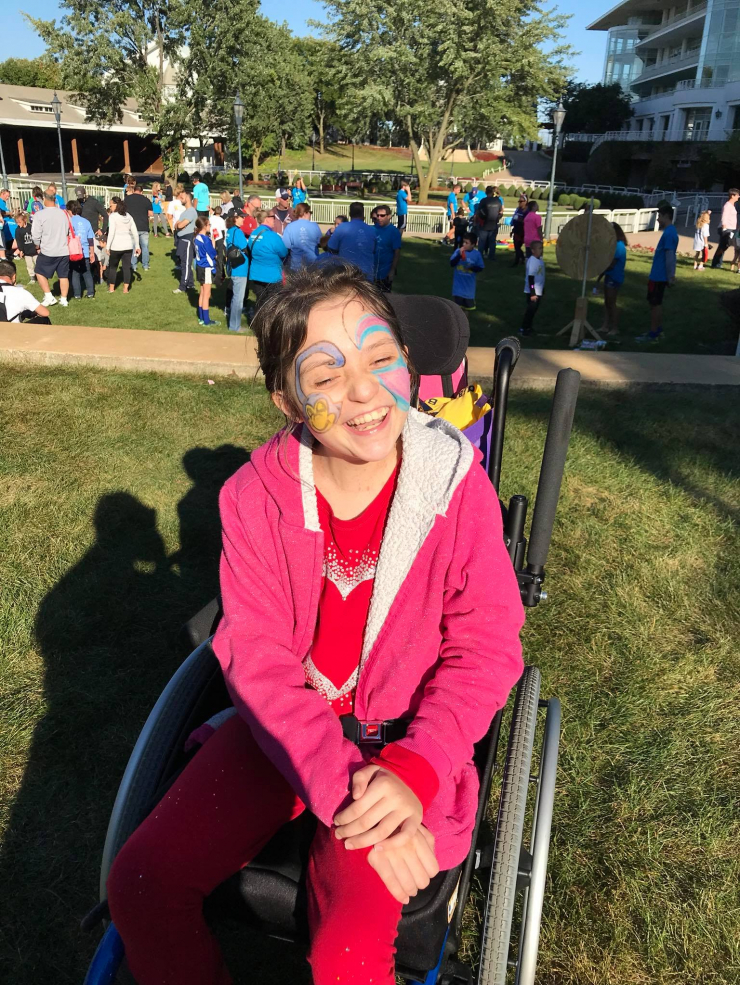 It's one more hurdle for these two to jump together. And still another challenge lay waiting.
Last Wednesday, while we all prepared for Thanksgiving and quality time with our loved ones, Summer and Nicole got the news that her cancer was back and she would need to start chemo treatments again.
"It's been a really hard week," Nicole said quietly.
Once again, they had to work a little harder to see the good. Then, Chive Charities and our amazing donors made that a bit easier.
As Summer's physical strength has diminished, she's needed more help to get around. Currently, these two travel to the ophthalmologist, oncologist, neurosurgeon, therapist, and more about five times each month. When Summer could still self-propel and transfer herself from her wheelchair to a seat, things were a little easier. That's not the case now.
And while they tried using a medical transport service, the van only showed up one time and never returned. It's hard to see the good in that.

But, after we saw Nicole and Summer's need, we knew we had to do something about it. Thanks to our community of supporters, we funded a 2019 Dodge Grand Caravan for this incredible duo that was delivered straight to them yesterday. The total impact is $46,676.
"Your donation means the world to me and my daughter and will completely change our lives," Nicole said. "We're most excited to get out and do the little things together. No big trips or fancy outings, really...we just can't wait to drive around together and look at the Christmas lights."
Like Summer has taught us, you don't need your vision to be able to see the good around you. She does it every single day. And here at Chive Charities, we see it each week in the veteran, first responder, and rare medical recipients we meet. We also see it in our donors and the tangible, real impact their dollars have on the lives of families like Summer and Nicole.
We see you. We need you. We can't do more good without you. DONATE HERE.