A former Alaskan state trooper, Ira was known for his adventurous lifestyle - hunting, skiing, scuba diving, water surfing…the list goes on and on. What's so interesting about that? He did it all without the use of his legs.
Well today, we submit another name for consideration on the "most interesting" list. Meet Jay Kaufman.
During the Vietnam War Era, like so many other young American men, Jay received a draft notice. Rather than have his future decided for him, Jay chose to enlist in the Air Force instead of being drafted into the Army. He served for four years before getting out of the military to become a security specialist.
In the year before he was discharged, Jay noticed some worrisome symptoms. He had an incredibly high fever that lasted for quite a while, but as he said, "If you weren't bleeding, you didn't go to sick call." By the next year, he couldn't walk.
Finally, he was connected with a specialist who confirmed he had rheumatoid arthritis, a chronic inflammatory disease where the body's immune system attacks its own tissue, including joints.
It was the first of many diagnoses he would receive, followed by a long list of medical conditions and injuries: spinal stenosis, adrenal insufficiency, bilateral hip replacement, bilateral shoulder replacement, tendon repair with wrist fusion, five back surgeries…let's just say he's very familiar with doctors.
And while all of that is interesting (even shocking), it's not what's most interesting about Jay.
In the years after his service, it seems like he's lived a thousand different lives.
He was a white water rafting guide.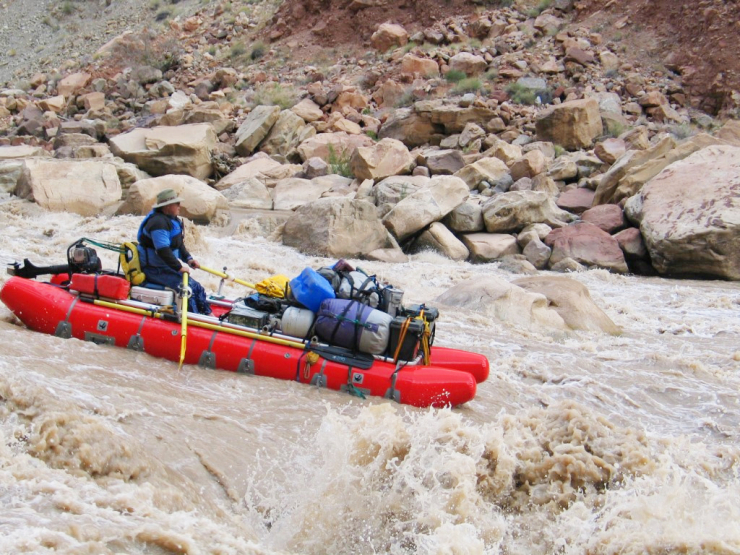 An avid climber, summiting all of Colorado's 14,000-foot peaks.
An archer.
A horse owner.
And also, somehow, a swamp monster.
"It hasn't been easy," he told us. "But I've gotten up and done something every day of my life."
He's also helped a lot of other veterans get the care and support they need. Jay has been sober for 37 years now, 32 of which were spent with the same sponsor who only recently passed away.
"I've been blessed to help people get sober," Jay said. "There have been a lot of successes that I've witnessed. It's hard now to be the one who needs help."
But the fact remains…Jay does need help.
For nearly a decade, he received what he described as excellent care from his local VA. But it's been a little more challenging to get the support he's needed in these last few years.
Here's an example: the VA got Jay a new electric wheelchair and lift seat for his truck. Unfortunately, the wrong lift was ordered and they're unsure if they can get him the right one. They're also unable to help with hand controls that he would need to safely operate the vehicle.
When a few men from the VA tried to help Jay install the new lift seat in his truck, they were so upset with all the new challenges he was facing, they reached out to Chive Charities to see if we might be able to step in and fill the gaps.
"Like I said, I don't want to ask for help," he explained. "I want to be the person who gives the help. But sometimes, you just have to suck it up and ask."
If he can put himself out there like that, we can certainly answer the call.
Our donors responded in a big way by helping us fund the purchase of a 2017 Toyota Sienna with hand controls and a transfer seat, allowing Jay to maneuver himself from his wheelchair to the driver's seat. The total impact was $51,983.
For the guy who's "gotten up and done something every day of his life," that's no small gesture. Your contributions will make it possible for him to continue doing all the things he loves for as long as he wants to do them.
Maybe, it'll even take him back into the Grand Canyon for the 23rd time. If Jay is part of it, we have to believe it'll be something epic.
Whether you're asking for help or giving it, there's a place for you at Chive Charities.
Since 2012, we've helped nearly 500 rare medical individuals, first responders, and veterans like Jay receive the extra support they needed. And that was all made possible through the selfless contributions of our donor family who give anywhere from $10-$200+ every month to change those lives.
You ask, we'll give it.
You give, we'll share it.
Even if your adventurous lifestyle doesn't land you on the world's most interesting people list like Ira Edwards and Jay, you'll be on our list of people who made the world 10% happier. That's a tough one to top. BECOME A MONTHLY DONOR HERE.