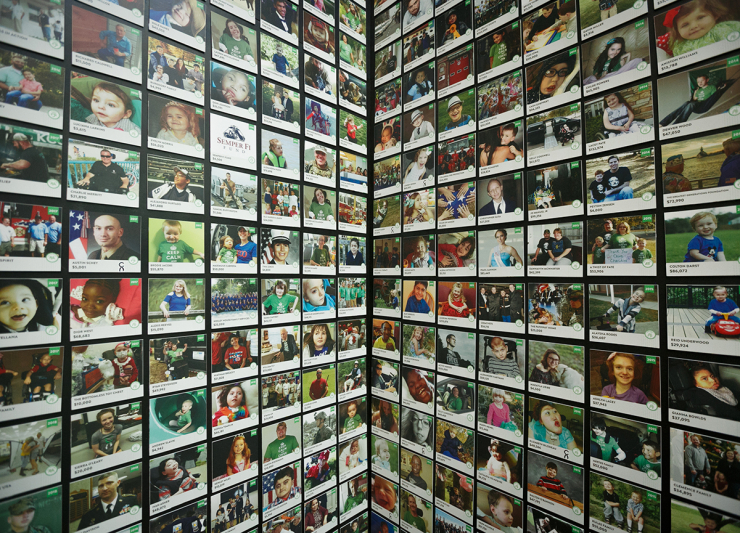 Let me give you the rundown. Chivers have been changing the lives of the overlooked and underserved populations for over 7 years.
theCHIVE community, through its philanthropic arm, Chive Charities, has helped over 320 causes by using its megaphone to raise awareness and provide financial assistance to deserving individuals and nonprofits.
There's nothing theCHIVE community enjoys more than making a real impact on real lives and seeing exactly where their donations are going. Well, maybe there's the FLBP and gaps. But after that, it's definitely got to be helping deserving individuals.
The most popular question we get pertains to how we select our recipients. The answer? Very carefully.
Every 3 months, the Chive Charities staff and board of directors lock themselves in a room and painstakingly select the following quarter's recipients. Around here we refer to it as the best and worst day at theCHIVE.
Of the 200 potential recipients that apply for help at Chive Charities each quarter, Kelly Wisniewski and Angie Burke help whittle that number down to about 60 eligible potentials. At the end of the day, we need to end up with 18-24 lucky recipients to fit within our budget. If you're doing the math, that adds up to this community helping 1.5 to 2 recipients each week.
The selection process is filled with emotional highs and lows, tears and smiles. On one hand, you're about to positively affect dozens of lives. On the other hand, you have to say "no" to some very deserving individuals.
Sevren's story was one that brought a smile to everyone in the room.
Born as the baby (B) of triplets, Sevren came into this world with the smallest head among his siblings but had perhaps the biggest heart.
Right away, doctors were able to diagnose Sev with Microcephaly. His parents, Nan and Randy, were told to expect life-long developmental delays. When the seizures started on day 3, they knew it was Lennox-Gastaut Syndrome. LGS is a rare and aggressive kind of epilepsy that starts in childhood and is extremely hard to treat due to its resistance to any medicine.
In the 20 years since Sev was born, he has been through just about every seizure control medicine, diet, super food, and oil out there. The results are always the same – multiple daily seizures.
Sev has a nerve stimulator implanted in his chest which basically acts as a pacemaker for his brain. He is also nonverbal and dependent on his family and caretakers for most daily activities. However, that doesn't stop him from living a pretty epic and active lifestyle.
He's been hiking in Colorado, to Harry Potter World, the Grand Canyon and everywhere in between. All the while he's had a smile on his face.
But keeping up that an active lifestyle is becoming more difficult. Sev now weighs over 100 pounds. To take Sev anywhere now, it takes at least 2 adults to lift him into the car. If he's recently had one of his daily seizures, the process is complicated further since the seizures leave him "floppy" for hours, essentially making him deadweight.
Sev's father, Randy, used to be able to help in this area. However, being a fully disabled veteran of the Navy since 2009 with back and neck issues, Randy can no longer help with transferring Sev around. Getting Sev anywhere is falling more and more on his mother, Nan.
Sev and his family reached out to Chive Charities hoping they would be selected as one of the couple dozen recipients to receive life-changing assistance. And we answered the call…
Thanks to your monthly donors, Chive Charities came through with the $40,000 grant to purchase a brand new 2019 Toyota Sienna wheelchair accessible van.
Sev's family has always had the goal to keep him completely immersed in the world. The life-changing van will not only get him safely to his medical appointments and therapy, but it will keep him out in the world living his best life.
If you were paying attention earlier, you may have noticed we were forced to say "no" to about 30 deserving families like Sev's due to lack of funds. Our goal is to get enough monthly Chive Charities donors so we never have to say "no" to another deserving family. Will you help us get to that goal? Donate monthly to Chive Charities HERE