November, 8, 2018 marked the first day of hell on earth in Paradise, California. Now 8 months removed from the Camp Fire, Chive Charities and UV Vodka's Salute to Heroes wanted to revisit 17 days in our history where 86 people lost their lives and share some shocking stats behind the most devastating fire in California history.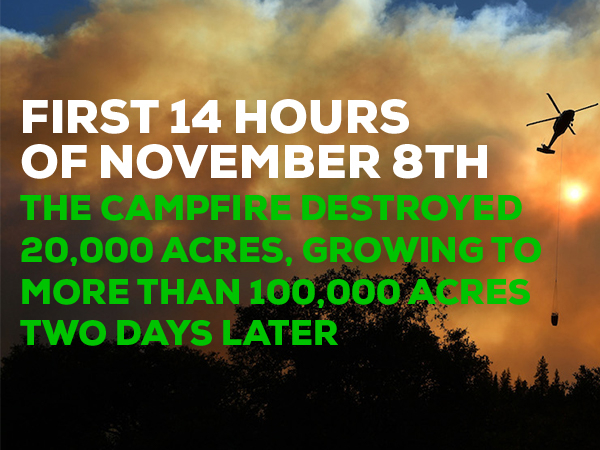 "We call it the swiss cheese model. Essentially if you have a block of swiss cheese, very rarely do all the holes line up and on this one, all the holes lined up. We hadn't had rain — everything was really, really dry. High winds — they reported gusts up to 76 miles an hour that day. And then you have the topographic features — 3 major things all lined up to come this direction."
David worked to help evacuate and fight the fire that destroyed his town. He saved the lives of his family by getting them to safety quickly before he went back into the heart of the fire to help others. He was able to save several neighboring homes but couldn't save his own. Since then, he has been fighting to help his family recover.
John Sheer, a Law Enforcement Officer, lost his new home in the blaze. He purchased the house in 2017 with his wife, Rachelle. Their dream was to live there forever.
The home was a total loss. To add insult to injury, Rachelle was in a car accident in April 2019 resulting in the loss of their family vehicle. The family of four lived in a fifth wheel for months before relocating an hour and a half way. John's new commute means less time spent with his family.
Nick Powell, a Law Enforcement Officer for 18 years, lost just about everything he and his family had ever possessed, as their property was essentially incinerated.
"I was not a wealthy man before this disaster, and not much has changed since then."
Nick recalls speeding into Paradise: "I thought, this fire is claiming acreage fast. I had to focus on my responsibility and my duties. My first task was evacuating an assisted living residence. When I arrived, the fire was 500 yards from attacking the facility. Day had turned into night. We got the last elderly person out as burning clumps of debris assailed the structure.
"
When a natural disaster strikes, everybody rallies around the victims… for about 4-6 weeks. That's the way of things. Then, slowly, interest wanes, the story falls out of the national narrative and I suppose that's just human psychology.
But Chive Charities and UV Vodka's Salute To Heroes believe in a steadfast commitment to our first responders. These brave men sacrificed their own homes to save others that day. They'll tell you they were just doing their jobs. Here at theCHIVE we have their backs. Together with UV Vodka we are announcing a $50,000 grant to the Powell, Scheer, and Collins' families to help get them back on their feet.
And we went one step further. We returned to Paradise, California, with documentarian and master-editor, Javier Mercedes. Watch the unbelievable video below as we tell the story of the heroes of the Camp Fire, with never-before-seen footage from the body and dash cams of the police and firefighters who rushed into danger against all odds…