When Addison's mom, Ashley, found out she was pregnant, her entire life became about one thing: her baby. Ashley was 19 and at college in her home state of Louisiana, going through the stage of life when many of us are more focused on parties and essays than nurturing a new life. For Ashely, though, this child had a hold of her heart before she was even born.
Little did she know how hard Addison would need to hold on just to stay alive. The tough road ahead was foreshadowed when Ashley told her mom she was expecting. Ashley's mom mentioned to her that their family carries a rare condition called Cri-du-chat, which occurs when a piece of chromosome 5 is missing. This meant there was a chance that Addison would be born with developmental delays, low muscle tone, and potentially fatal heart issues.
Ashley had already decided, though, that as long as Addison was holding on, so was she. So when the doctors told her that the burden of a child with Cri-du-chat would be too great for her to bear, she said that loving her daughter is no burden at all.
From the very beginning, these two have had an unbreakable bond. That's why, when Addison was brought into the world via C-section, weighing just over 3 pounds, Ashley knew that everything would be okay. Still, Addison had tested positive for both Cri-du-chat as well as Trisomy 11, a chromosomal condition that slows development before and after birth.
As Ashley came out of the anesthesia, before she could even hold her baby, a doctor delivered the heartbreaking news: Addison would only survive for a couple more hours.
A shock coursed through her body, but still, something kept Ashley grounded. Something inside of her knew that Addison was still holding on, so she held on to hope as well. And sure enough, hours turned into days, which turned into weeks, which turned into years. Now, Addison is 14 and full of life. She's still holding on.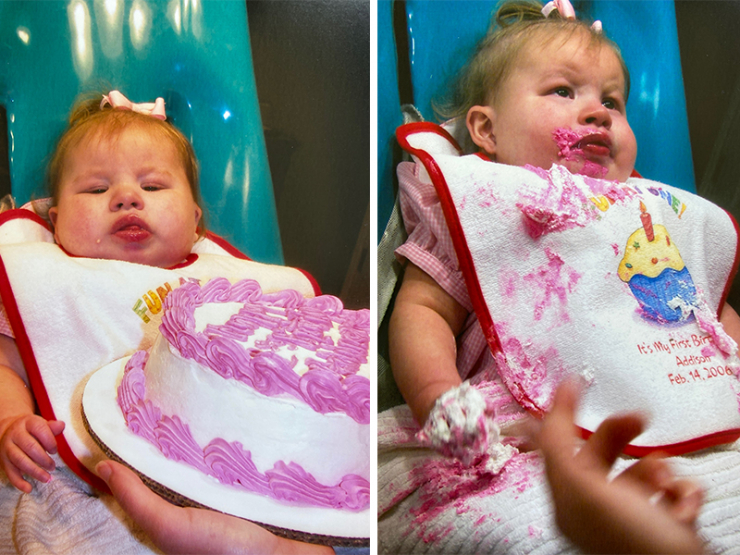 The first year was the hardest. At Addi's 2 week checkup the nightmare began again, and she coded in the doctor's office, turning completely blue.
Her condition was looking more dire by the minute. She was being kept alive by ventilators and innumerable tubes. That's when doctors had to ask the difficult question of "What do you want us to do?'' The question seemed ridiculous; Ashley knew her baby was a fighter who had already endured so much. They both kept hanging on. Even through the two heart surgeries, tracheostomy placement, and countless emergency room visits, this little fighter had a strength inside of her that kept her going.
When it comes to Addison's needs, Ashley has seemingly supernatural abilities to match her daughter's supernatural strength. She says the two are completely in tune, even without using words, as Addison is nonverbal. Her little brother, Austin, has the connection, too. He loves his "big sissy" so much and is always there for her in good times and bad.
The love in this little family is so strong that it often eclipses other needs. Ashley dedicates her whole life to her children who require round-the-clock care, but as Addison grows up and grows bigger, these needs are becoming too great for Ashley to handle on her own.
Addison loves to go for walks with mama and Austin, but they are often limited to strolling the same road around their house, because getting Addison into and out of the family car is becoming impossible. When they go anywhere with Addison, that means her wheelchair is coming along too. While Ashley and Addison have exhibited super-human strength before, Addi's wheelchair is still too heavy for her mom to lift in and out!
You know what Chive Charities does next, right? Our donors see a hero like Addison, and they want to help lighten their burden when no one else will. You guys have done it yet again for Addison and her family, who are now the proud new owners of a Wheelchair Accessible 2019 Dodge Grand Caravan SXT from AMS Vans thanks to a $43,500 grant from Chive Charities!
Addison's tale of strength is so inspiring that it even caught the attention of Jensen Ackles, star of the WB's cult-favorite, Supernatural! It turns out, Jensen and Addison are from the same small Louisiana town. He and his wife, Danneel, recorded this sweet message just for Addison:
Addison's story can serve as a reminder to all of us that no matter what adversity we face, we can get through it if we just keep holding on. Even when others doubted her journey, Addison kept fighting through the darkness and has now found her way to the light. Things are looking especially bright thanks to your donations, and she wants to share a message with you all, too:
Today, you could do one simple thing that will help heroes like Addi keep shining bright. You can become a Chive Charities donor. Giving with Chive Charities is at your own pace; you choose the amount, the frequency, the method. This community is made up of people like you, and you don't have to have supernatural strength to do your part. All you have to do is get started HERE!