Life is full of firsts – mostly good, some not-so-good, but for one family, the not-so-goods were outnumbering the good ones at an alarming pace. Chive Charities is all about supporting underdogs in their time of need, so don't worry...this story has a happy ending.

Beau is active duty Air Force, and all he ever wanted was to provide a great life for his family. He and his wife Sandra live in Ohio with their four kids: Daniel (16), Emma (13), Nathan (12), and Isaac (3).

They love everything outdoors, the kids get along slightly better than most siblings, and they have close family nearby to pitch in when the logistics of a large family go off the rails.

It was all going pretty well until 2011, when their whole world turned upside down.

Actually, things had started to unravel even before that, in 2007 when Daniel was five.
"We noticed he started walking with a sway," Beau remembers. "At school, we were told Daniel
wasn't where he should be, socially or with his motor skills. The pediatrician said he would catch up, that every child is different, but the months ticked by and his symptoms got worse."

Beau and Sandra took Daniel to specialist after specialist, who ran test after test, but it took nearly three agonizing years to find the cause of their son's declining health: Friedreich's Ataxia (FA), a progressive, neurodegenerative movement disorder that causes loss of motor control, speech, and vision, and could ultimately lead to heart failure.

"What was it like to finally get a diagnosis?" I asked. Beau paused – he and Sandra were both there, and going back to that place and time were clearly still painful.
"We had been living in a haze of uncertainty, not knowing at all what was going to happen," he finally answered. "And we really wanted to know, but when you do find out...the haze goes away, and with that haze goes away any hope, too."

Geneticists told them there was a 25% chance the other three kids had FA, too, but before they even had the chance to run the tests, Emma started showing the same symptoms her big brother had shown years before. Fortunately, Nathan and Isaac tested negative.

Beau told me Daniel loves and has always loved superheroes.

He can't think of many times his son hasn't worn a cape and mask, and even though his ability to walk on his own began fading shortly after he was diagnosed, his love for superheroes has not. FA has been aggressive with Daniel – his independence is quickly slipping away, just as most teenage boys are able to do more and more on their own. As you can imagine, he's not happy about it.

Emma has always been sandwiched between two worlds: the fairy-princess-dancer-girly-girl world, and the only-sister-rough-and-tumble-hang-tough-with-the-boys world.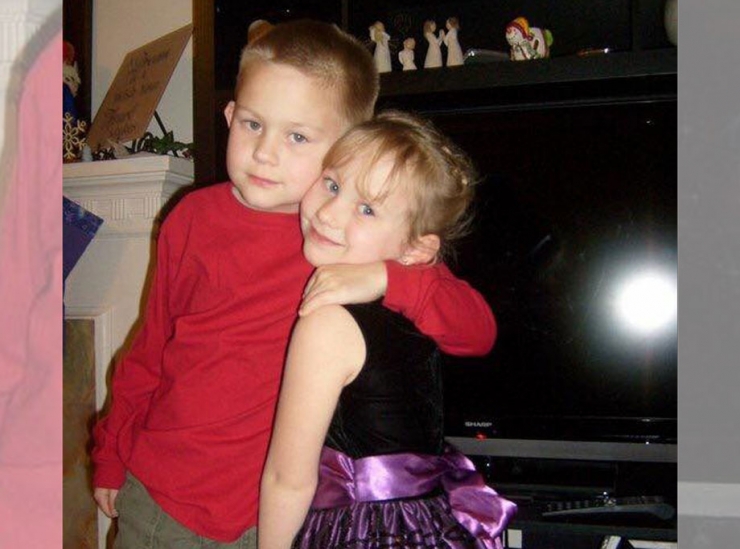 "She is my wild-eyed girl," her dad said, smiling. "She would sword fight in a tutu."

She loves drawing and painting, and she especially loves writing (a girl after my own heart!). One day, she hopes to become an author.

Emma's fighting hard for her independence, too, which isn't easy in the face of a disease that threatens to wipe it all out every single day. She walks laps in the house just to keep her strength up, using a walker most of the time, a wheelchair for long distances.
Which brings us to the problem, the cliffhanger, if you will.

"If there's an emergency, Daniel and Emma have no way out of the house," Sandra told me. "I'd have to carry each one down the stairs separately, and God forbid I couldn't do it for whatever reason." They built a makeshift ramp at the front door, where there are only two steps, but it isn't a long term solution – with the kids getting bigger and harder to transport, Beau and Sandra needed something safer and more permanent.

We put our heads together and came up with this brilliant plan: a lift both Daniel and Emma can use safely and independently.

Isaac seems to like it, too.
While we were talking about mobility and independence, and what that looks like for growing teenagers with FA, we learned Sandra quit her job and homeschools the kids to allow for all the doctor and therapy appointments they have during the week. We know all too well how difficult transporting people in wheelchairs can be on their caregivers, and discussed with Sandra whether a wheelchair-accessible van would make sense for their family.

"We can't really fit in a mini van," she said. "And our Suburban's in great shape. But it would be awesome to be able to unload the kids in the garage, near the lift and out of the elements." Thinking caps went back on, and we realized automated seats could be just the right idea.

It's a short transfer from wheelchair to car seat, and Daniel can control it on his own. Accessibility and independence FTW! And if/when the time comes for Emma, her seat is ready to go.

Their shirts say it all: Together We Will Cure FA. And all of us can play a part...Chive Charities' monthly donors provided a $36,000 grant for the home lift and automatic car seats, but they really provided something much more valuable: hope.
Beau said something during our visit we'd like to share with you: "It's hard to watch these kids go through life and slowly have everything taken away. It's amazing to see them get something back for a change." Will you help us give hope to more deserving recipients like Daniel and Emma? Become a Chive Charities monthly donor right HERE.