In the blink of an eye, the driver hit a large bump, overcorrected, and lost control of the vehicle. The soldier riding with his head outside the roof barely had enough time to pull himself back inside and hold on to the seats as the Humvee flipped. The passenger wearing only the shoulder restraint - Matthew Gonzales - wasn't as lucky.
He flew from the vehicle, hearing the crunch of metal and sailing through broken glass before landing in a heap on the side of the road fifteen yards away from the smoking Humvee. When he opened his eyes, the first thing he saw was clear skies above him, a stark contrast against the condition he found himself in. He slowly turned his head to the left and saw that his arm was literally dangling by a thread. It was completely mangled, a bloodied mess of broken bone, torn tendons, and severed arteries, the latter of which was causing life-threatening blood loss.
The other two soldiers gathered around him with only minor injuries of their own. They worked quickly, fastening a tourniquet from a belt and looping it around Matthew's arm to stop the bleeding.
Nearly 10 minutes later, the first medical responders arrived on the scene. As they worked to save his life (and his arm), the adrenaline began to wear off and the pain started to become unbearable. Now, it wasn't just his arm that hurt, and Matthew screamed out when the medics cut his right pant leg open to reveal a tibia/fibula fracture that had broken through the skin.
When they finally transported him to the hospital, bouncing over the same uneven terrain that caused the accident - Matthew lost consciousness again, a welcome reprieve from the excruciating pain radiating through his body.
His list of injuries was long: a compound fracture in his left humerus, severed arteries, nerves, and tendons, a compound fracture in his right tibia and fibula, a liver laceration, and a traumatic brain injury.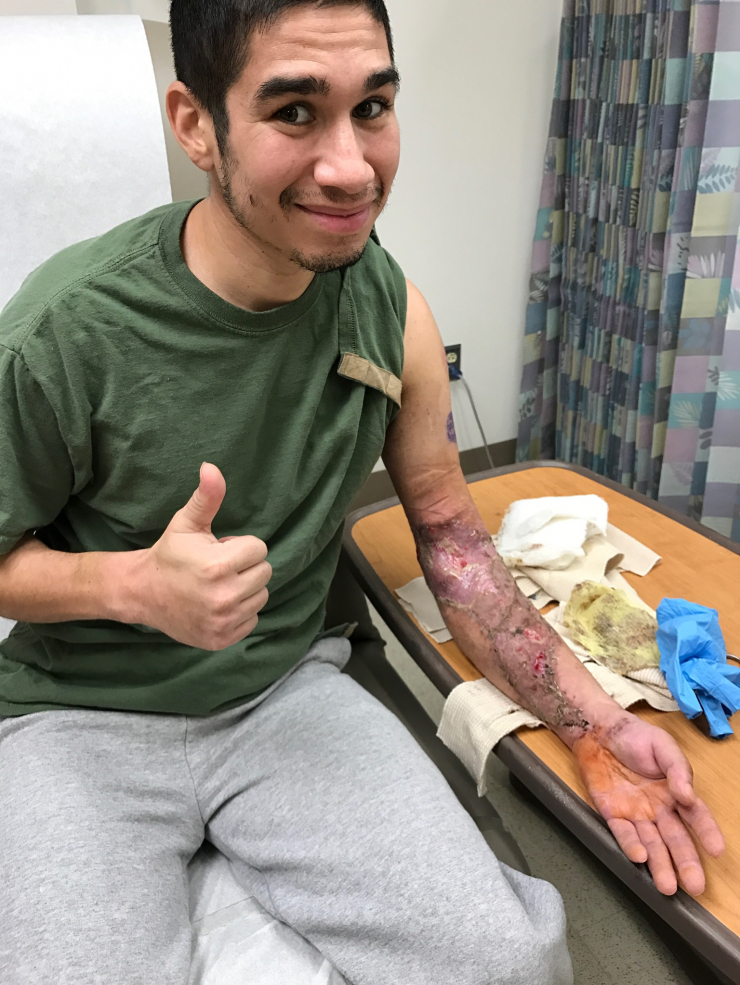 It was another detour on the road to his dream, one that he didn't even know he had yet.
Seven years before the accident, Matthew was following in his grandfather's footsteps as a soldier in the U.S. Army.
"A lot of my family was prior military, and I grew up hearing stories of them and their exploits," Matthew said. "From all the stories that my family told, the one that impacted me the most was my grandfather's. He was a War World II Purple Heart recipient. His valor inspired me to make the leap into the service and I joined the military in the winter of 2009."
Matthew was living his dream and truly excelled, taking pride in his physical fitness scores and athletic ability. He also met his wife Tamara, another Army soldier, and they added two children to their growing family. Life was pretty good...but Matthew found himself looking for more.
"In the end, I was hoping to find a more challenging role in the Army - but I found it in the Air Force instead," he told us. "I entered training for my dream job in Pararescue at Camp Bullis in July 2016. And three months later, I was laying on the side of the road."
Matthew spent the better part of the next year trying to heal and recover from his grievous wounds. He also battled through months of hopelessness and despair, lamenting the man he was physically before the injury and weighing that against the man he wanted to be after it.
"After the accident, I found myself at an all-time low," said Matthew. "I was ashamed of how I looked, how my performance was definitely not how it used to be, and I was lost on where to go and what to do after rehabilitation. I kept thinking I wasn't going to be able to carry my son or play sports with him and had thoughts that my wife wouldn't want to be with me anymore. I felt like I had no purpose."
But at The Center for the Intrepid in San Antonio, Texas, Matthew did find his purpose. The Center offers numerous programs and activities like skiing, rock climbing, marathon running, and cycling.
"Honestly, having the opportunity to see and speak with other warriors who were dealing with bigger issues than I was going through helped me to stop feeling sorry for myself and start fresh with a new outlook," he said.
In October 2017, Matthew's behavioral health manager - Jorge Torres - introduced him to road cycling. During his first ride, with the familiar rush of competitiveness and exhilaration filling his body, Matthew realized all roads had led to this one.
A slight detour on the road to his dream.
Now, Matthew has taken the same competitive spirit and drive that once made him so proud and used it to get back on the path to his purpose. It turns out that he's exceptionally good at cycling. Like a future Paralympian good.
This April, he'll suit up in preparation for the U.S. Paralympics Cycling Open, an opportunity for world-class cyclists to qualify for the Paralympic Games in Tokyo this summer. And he'll use his grant item from Chive Charities and donors like you to chase that dream.
As a disabled veteran, Matthew has faced his share of challenges. Having a modified road bike to race for the Paralympics didn't need to be one of them - and your donations made sure of that.
Because our community of supporters takes care of their own and selflessly supports the underdogs, Matthew received a new Aeroad CFR Disc AXS for a total impact of $9,850. Now, racing for his dream just became reality.
Chive Charities has spent the better part of 12 years making dreams come true for rare medical individuals, first responders, and veterans like Matthew. Sometimes, that dream is to have some independence. Sometimes, that dream is to get mobility back. And sometimes, that dream is to find someone to go on the journey with you - to know you'll never be alone no matter what detours you take along the way.
For the underdogs in need of some help, all roads lead to Chive Charities. Become part of our dream-making donor family with a one-time or monthly donation. DONATE HERE.