You've got a friend in me
You've got a friend in me
When the road looks rough ahead
And you're miles and miles
From your nice warm bed
You just remember what your old pal said
Boy, you've got a friend in me
Yeah, you've got a friend in me
If we could serenade our latest recipient, Callen, with one song, it would have to be this one from Toy Story. In Callen's short nine years, he's been miles away from his nice warm bed a lot, usually because he was going back and forth to the hospital.
When Callen was born, his parents could tell there was something different about their little boy. He couldn't hold up his head the way his older brother Clarke could at the same age. His muscles just weren't working. He was diagnosed at six months old with Hypotonia (low muscle tone), but that diagnosis was only the beginning of a tough road ahead.
Just as Randy Newman sings, though, Callen wasn't walking this road alone. When he began to experience small episodes that resembled seizures, his parents knew in their hearts it wasn't just overstimulation, as was thought by his physical therapist at first. And they were right. At 17 months old, Callen had his first tonic-clonic seizure. Baby Callen would lose consciousness and experience violent muscle contractions.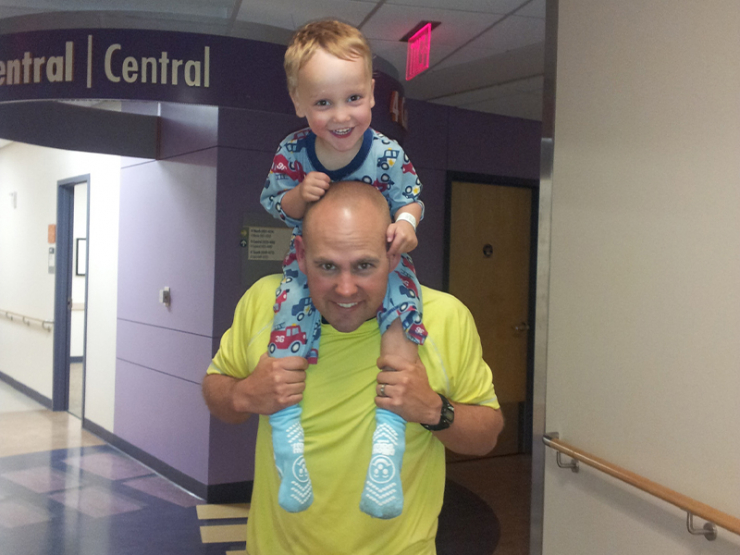 While Callen was already struggling to keep up developmentally, the seizures only seemed to slow his progress. While the hypotonia made it hard for him to walk, the seizures would come and knock him down, causing him harm that was both physical and mental. When you are a baby trying to learn new skills, having your own body literally take you down is very discouraging. But his parents and brothers are always there to lift him up again.
Callen's family was there for him through his g-tube placement, through trial and error of seizure meds, through sleep studies, and through SIX YEARS of genetic testing. They were there for him when he was being poked, incised, injected. And they were there for him when he finally received a diagnosis that explained it all: Callen has a genetic mutation of the KCNb1 gene. He is one of 60 people on the planet who has it.
With his diagnosis, the battle truly began. Visits to the hospital to manage and understand his condition were frequent. But as the road ahead looked rougher, Callen found even more friends. Over the years Callen has had a great team of multiple professionals including 20+
doctors and 5 different therapy disciplines, with too many therapists to count. He has also had a
dedicated staff of private duty nurses to care for his needs. If you keep up with Chive Charities, you know firsthand how having a lot of people on your team can make all the difference in the life of an Underdog.
And look at the difference it has made! Nowadays, Callen is thriving. His family advocated for Callen when times were tough, and finally found something that effectively prevents seizures: CBD. Callen's family lives in a small town in Texas, where anything with "cannabis" in the name is sure to raise some eyebrows. But this non-psychoactive chemical made a world of difference for Callen. When you're unique like Callen, you need unique treatment. And, it turns out, you also need unique wheels...
Callen's parents love to take him, his older brother, and his little brother, Conway, out on the family property to explore. They have a whole menagerie of critters to hang out with, including chickens, turkeys, dogs, peacocks, and a goat.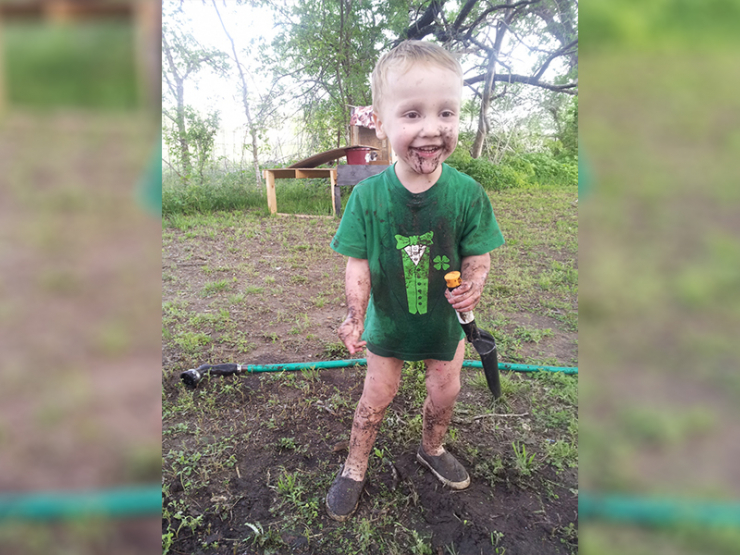 Callen absolutely LOVES to get outside and be active, whether it be digging holes in the boys "dig pit" or chasing birds around the yard. But there was one thing that Callen wasn't able to do with his family: go on a bike ride.
Not anymore! Callen has a friend in us at Chive Charities, and in our whole family of Chive Charities donors. Because of the generosity of thousands of strangers, we were able to purchase Callen this adaptive bike from Freedom Concepts for $4,800. This special bike works with Callen's physical differences to help keep him upright and safe, so he can finally join his family on bike rides!
Freedom concepts was even able to trick this bike out with some customization, adding a little hint of Chive Charities and embroidering his dad's Sheriff's badge number on the seat.
This little fighter has gone from these wheels:
To these:
And he couldn't have done it without his friends
It's like Randy sang:
If you've got troubles, I've got 'em too
There isn't anything I wouldn't do for you
We stick together and can see it through
'Cause you've got a friend in me
There's a lot going on in the world right now, and a lot of us are struggling. The thing that helps us all keep it together is that we are all in this together. Despite the economic landscape right now, our donors continue to stick together and see our mission through. Because of their selflessness, we are able to provide people like Callen with the things they need to live a full and happy life. And you can join us! Becoming a donor is easy and flexible. Give what you can. Give once, give monthly, it's all up to you. But we would be so happy to call you a friend. Begin your journey by signing up right HERE!