More than $1.3M has been raised for rare medical individuals, first responders, Veterans, and military families, and it's come in all types and forms, including events, fundraisers, and campaigns.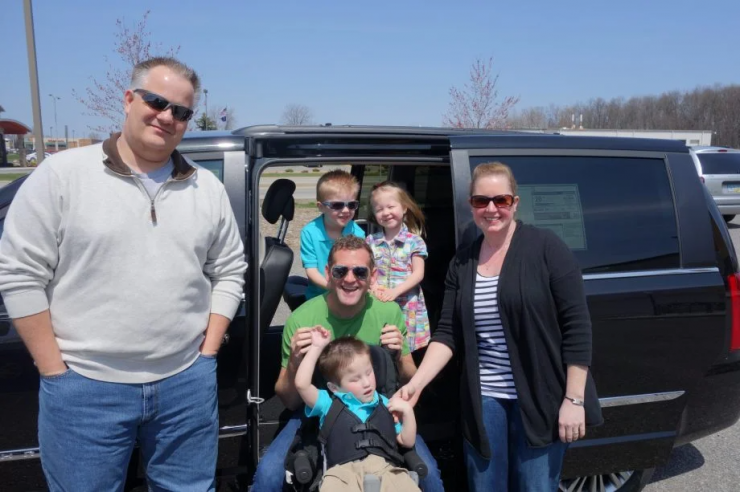 That support has changed lives in clear and tangible ways, like Griffin and the Stein family who received the very first ADA van, featuring a huge celebration with all the Michigan Chivers who were there to help and be part of the impact.

There was Chive On California who delivered adaptive kitchen appliances to Jensen Shirley, an inspirational Veteran, straight to his home.
Of course, there was Zoe Lush. Melissa Smith. Special Kids Care. And just this month, Abigale, a sweet little girl from North Carolina who got a brand new adaptive car seat and numerous other items thanks to a fundraiser led by Joshua Arney and the Chiverhood of the Traveling Pants. (By the way, they crushed the $1,000 goal and raised $4,300 for the family in a matter of days).
Now, we introduce you to 2-year-old Sawyer, a toddler from New Mexico who was about to add her name to a long list of Chive Charities recipients who got some extra support from Chive Nation.
Sawyer's mom, Randi, knew of theCHIVE and Chive Charities but never intended to apply for a grant. Randi is an Army Veteran who served at Ft. Sill, Oklahoma, and then later a year in Korea, before deciding to return to civilian life and other opportunities. She's fiercely independent, resourceful, and reluctant to ask for help unless it's absolutely necessary. "I try my best to be self-sufficient," she told us.
So, when Randi was pregnant with her first child, Sawyer, she tried to stay pretty even-keeled about it all. Unfortunately, Sawyer had different ideas.
At just 32 weeks pregnant, Randi's water broke and she began having contractions. The medical team prepared to give her magnesium in hopes of slowing or stopping labor, but it was too late. "This baby is coming - NOW," they told her. Less than 20 minutes after Randi made it to the hospital, her eight-week premature daughter was born.
While the baby was tiny – Sawyer weighed only 4 lbs. – everything else was looking pretty good, all things considered. She spent 26 days in the NICU developing her lungs and building her strength before she was finally sent home. That should have been the end of the medical story…but it was only just the beginning.
One day, Randi's mom was holding her granddaughter when she noticed that Sawyer seemed to be having spasms.
Internally, Randi was a nervous wreck, but she calmly packed a bag for her daughter, placed her in the car, and drove to the nearest ER.
The tests and results took all day. Finally, around midnight, Sawyer was treated by a neurologist named Dr. Brown. He confirmed that she was having seizures and immediately started her on anti-seizure medication.
"They would be under control for a little while and then start up again," Randi explained. "Each time, we would increase her seizure medication and that would buy us some more time. But we got to the point where he couldn't do more for her."
Eventually, Sawyer was prescribed a steroid that stopped her spasms and everything was looking much better. She has always been a happy and content baby, but with her new protocol, her personality began to shine through.
In many ways, she's a lot like your typical toddler. She loves Cocomelon and Paw Patrol, being in the water, and absolutely crushing a plate of Mexican food. "Honestly, eating in general is one of her favorite things," Randi laughed.
Their life might have just continued on that way, one major hurdle fading farther into the background, but Randi noticed Sawyer stopped hitting her developmental milestones. Immediately, Randi jumped into action, placing Sawyer in occupational, physical, and speech therapies to get her back on track.
Then, another hurdle.
At 15 months old, Sawyer was officially diagnosed with Spastic Diplegia Cerebral Palsy, a condition that causes individuals to have muscle stiffness in the legs, with the arms less affected or not affected at all. People with Spastic Diplegia might have difficulty walking because tight hip and leg muscles cause their legs to pull together, turn inward, and cross at the knees.
For Sawyer, her CP diagnosis also comes with decreased core strength, and it's difficult for her to sit upright unassisted.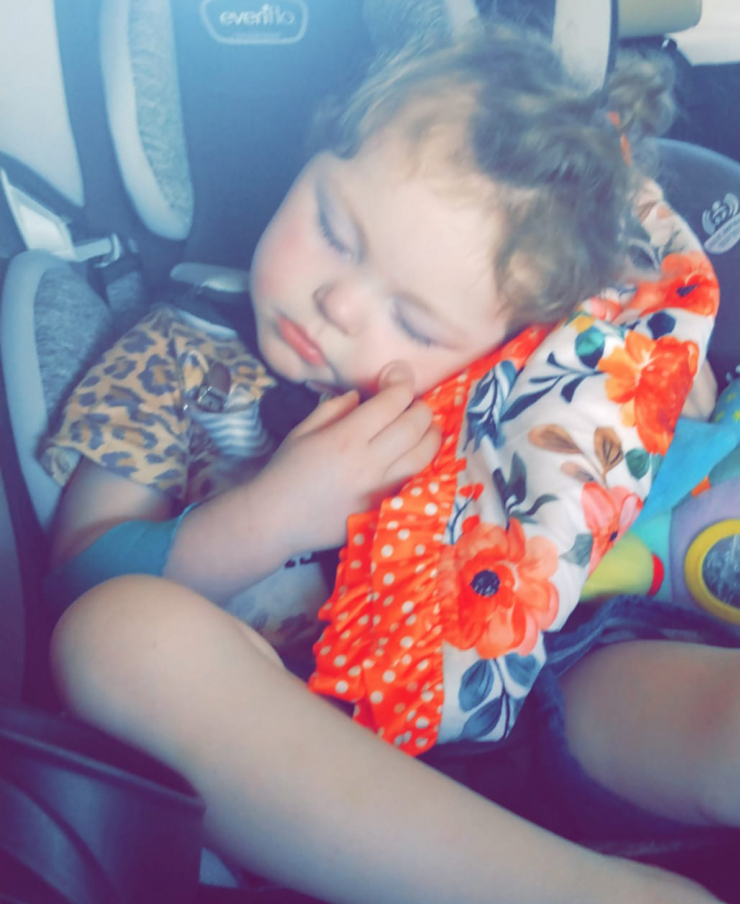 "When we first got her diagnosis, it was overwhelming," Randi shared. "I try to be independent and self-sufficient but knew I would need support to help her. Oftentimes, I ask myself, 'Am I doing enough to help her succeed?'"
(We would answer that with a resounding yes.)
This is where Chive Nation enters the chat.
Currently, she spends five days each week in either occupational, physical, or vision therapies. But as Randi asked herself that same question - "Am I doing enough to help her succeed?" - she found a more intensive therapy program that offered incredible strength-building opportunities for her daughter.
"We know another little girl in our town with CP who went to this facility for therapy," Randi said. "After her second visit, she took steps independently, walking on her own."
She had to give it a shot for Sawyer. The only problem was the cost.
One day, Randi was talking to her friend Mark Dallas from Chive On Amarillo. He mentioned reaching out to Chive Charities for help to see if we might be able to cover the cost of Sawyer's therapy.
At first, Randi put her determination to good use, coordinating bake sales and selling custom t-shirts to help raise money. But eventually, she took Mark's advice and decided to apply.
Chive Charities selected Sawyer as the beneficiary of proceeds from The Chivery's Summer Collection, which helped cover the full cost of OT, PT, and speech therapy, plus travel expenses to and from treatment and a bath chair, for a total impact of $3,164.
But the impact didn't end there.
Once again, Chive Nation stepped up to help a family in need. Chive On Amarillo coordinated a fundraiser for Randi and Sawyer that generated $6,700 to fully fund Sawyer's intensive therapy sessions.
"The support to pay for those sessions has been incredible," Randi said. "I can see a noticeable difference in her development, and Sawyer is so close to crawling now."
That's the kind of impact we're here for. That's the kind of impact Chive Nation and donors like you have helped us create. Sometimes, it's big, hard to miss support like a new home for Melissa or a major remodel for Griffin. Sometimes, it's quieter, like an adaptive microwave for Jensen or a specialized car seat for Abigale. But every time, it's life-changing.
So today, if you're like Randi and pause to ask yourself, "Am I doing enough to help them succeed?", there won't be a doubt in your mind. Become part of the greatest community in the world and DONATE HERE.