It's always been that way, really. This year, it's time to mix things up. There are many – young, old, and all ages in between that don't get to experience Christmas. For them, it's just another day on the calendar.
Deborah Parson, the co-founder of Silver Santa, asked me to guess how many low-income veterans there were in Austin and San Antonio? I aimed high, "I'm guessing 30,000."
"There are 105,000."
Seemingly an impossible mountain to climb but you must start somewhere. So we did.

Chive Charities donated $10,000 to bring Christmas to as many low income and senior citizen veterans as possible this year.

Santa needed a bit of help this year after ankle surgery. So the employees at theCHIVE HQ volunteered their time. To the Austin VA Hospital we go…

Of those 105,000 vets, many are disabled and in need of medical attention. Hospitals are no place for anybody during the holidays, especially those who served our country. So we thought it would be appropriate to set up shop for a week to bring Christmas to as many veterans as possible.

We volunteered our time to give away presents to low income and disabled veterans. It would take nearly a week to give all the presents away.

Around 3,500 presents to be exact.

We met Michael Wittrock, the Voluntary Service Specialist and former Naval Commander. He has worked at the VA as a volunteer for 18 years. Michael had two strokes the day before we met him (you read that right). He still insisted, not only on being present, but helping disperse the gifts. His Fitbit registered 9,000 steps by the time we met him. I've never met somebody more committed to helping our veterans. "These are my brothers. They'd do the same for me."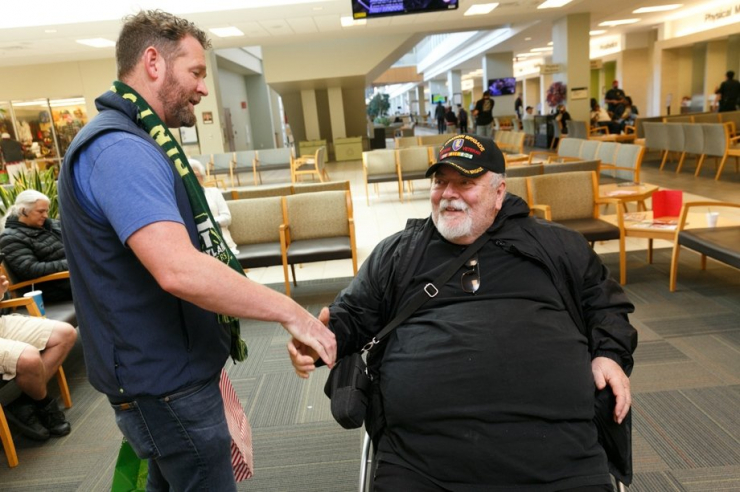 Richard Stevens, Vietnam Vet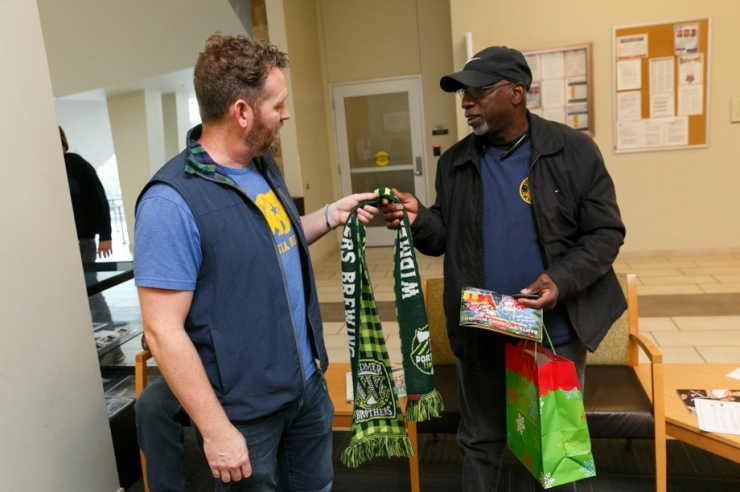 Donald Jenkins served in the Army. A long time ago Seattle Sounders fan, he now has my prize possession. Couldn't have a better new owner.

We nicknamed him the unknown soldier. He was happy to talk to me, "But I don't want any recognition, if you'd be so kind."

He had been to the department of radiology a few days prior when Silver Santa was handing out gifts. "I already received a gift. If it's alright with you, I'd like you to give my gift to one of my brothers. Thank you."
"No, thank you, for everything, for your service."
"Son, don't thank me, thank the young men who gave the last full measure."

I told him that, earlier this year, my grandfather and I had done just that.
On the 74th Anniversary of D-Day, my grandfather checked one more thing off his bucket list. He wheeled himself out on the lawn overlooking Arlington Cemetery, high on a hill under the shade of a sugar maple tree, and saluted his fallen brothers.

It's now winter on that same hill. The unknown soldier was right. This Christmas, take just a moment to remember the men and women who celebrated their last Christmas years ago, sacrificing their lives so we could be safe with our families this Christmas Eve.
Merry Christmas, Chivers,
John
PS – This event was made possible by the hard work of Kelly Wisniewski, the unsung hero of this story. She's a part of a small but committed group at Chive Charities who are truly making the world 10% Happier. If you enjoy reading stories like this, please donate or become a member. In return, we'll keep fighting for the underdogs every single day.