I've never really paid close attention to the lyrics of "It's The Hard-Knock Life" from Annie. (Or the Jay-Z remix that came many years after.) I got the general idea, though. Things were bad and getting worse.


After hearing Abinav's story, the phrase "hard-knock life" kept popping into my head, and I pulled the lyrics up to read more closely.
It's the hard-knock life for us
It's the hard-knock life for us
'Stead of treated
We get tricked
'Stead of kisses
We get kicked
It's the hard-knock life
Don't it feel like the wind is always howl'n?
Don't it seem like there's never any light?
Once a day, don't you wanna throw the towel in?
It's easier than puttin' up a fight
It's the best representation of any to describe the Rai family's experiences. Dhan and Jasmin immigrated to America from their home country of Nepal in 2012, and they were hoping to build a beautiful, better life for their family – including their 1-year-old son, Abinav.
But in the middle of 2014, Abinav started having unexpected and unexplained seizures.
The doctor put him on Keppra, an anti-seizure medication, and it was wildly successful. Abinav was seizure-free for almost a full year.
"He was such an active child," said his dad, Dhan. "He was doing so well, but when we went to his follow-up appointment, the doctor decided to switch his medication. He said Abinav's seizures and anxiety would be cured."
The family picked up the new medication, another anti-seizure drug called Trileptal. It was August 12, 2015, and they gave Abinav his first dose of medication at 9pm.
"At between 2-3am, we found him having a seizure," Dhan explained. "He had another just an hour or so after that, and then a third."
They called the doctor, and a nurse received it. They explained the situation and their concerns and requested permission to go back to the Keppra again, but she advised them to wait for the doctor's authorization.
"The next day, the doctor called me and advised us to stay on the same medication," said Dhan. "He assured us that the medication would suit him gradually, and recommended we increase his dosage from 1.5mL to 2mL – but that did not happen for him."
Tragically, it was the catalyst for a lot of pain and heartache to come.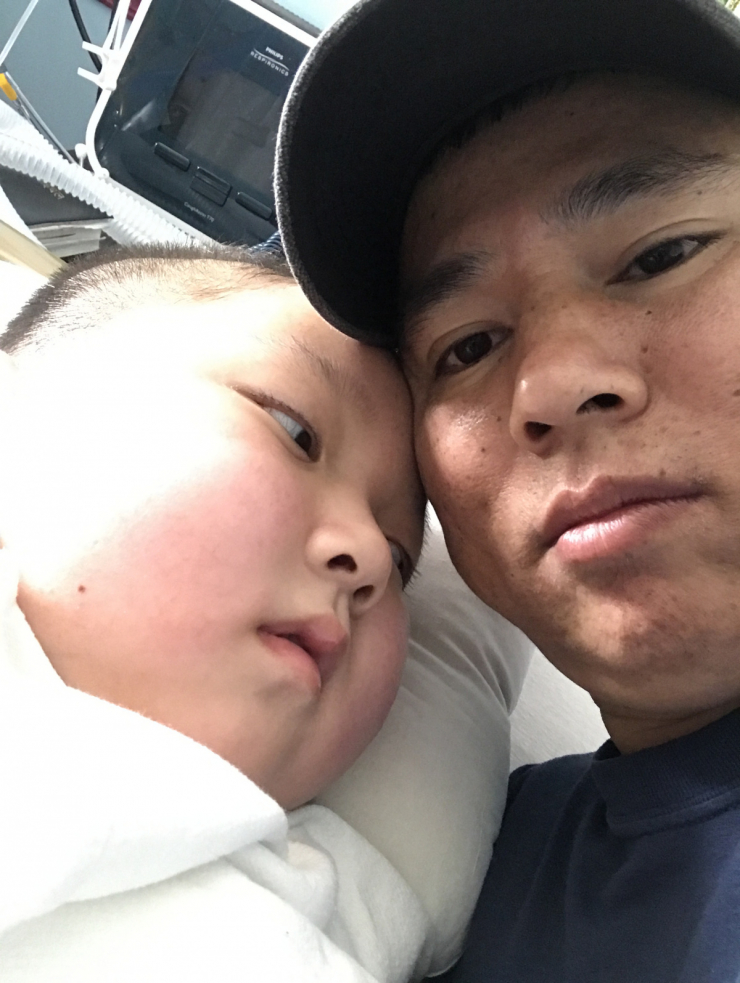 Nine days later, Dhan went to drop Abinav off at his grandma's house on his way to work. When Jasmin went to pick him up after her shift, she immediately noticed that Abinav didn't meet her at the door like he always did. She went inside and found him asleep on his stomach on the couch.
"She turned him over to wake him," Dhan quietly explained, "And he was blue and cold."
His sister-in-law called him at work, words tumbling out faster than he could hear. But the worry and concern in her voice came through loud and clear. "Abinav is sick and you need to come."
He had just begun his 12-hour shift, so Dhan finished his work for the day, mindlessly completing tasks as he worried about his son. He frantically drove to the hospital as quickly as he could.
"I didn't think he was that sick because no one explained it to me," he told us. "He was there for 3-5 days, and all they said was, 'He will not get better. You need to let him die.'"
Remember, the family was still learning English and adapting to life in the U.S. Imagine being in a new country where the primary language was still foreign to you, and you're listening to doctors and medical staff explain complex terminology about your son's condition. It would be terrifying and disorienting, to say the least. And it was.
"It ruined our beautiful family's happiness," Dhan said.
We won't take you detail-by-detail through the next few months, but it can be summarized pretty simply: Abinav refused to stop fighting, and so did his family.
He suffered that life-changing seizure and subsequent brain injury on August 21, 2015, and finally returned home to his family in April 2017.
"Since that very black day, my wife stays home taking care of my son and I work to support the family financially," he told us. "Living life is great misery. No home so far – we're sheltering with my brother and his family. They are so good but the house itself is not spacious for all of us. At least Abinav needs a spacious room."
It's the hard-knock life for us
It's the hard-knock life for us
'Stead of treated
We get tricked
'Stead of kisses
We get kicked
Currently, Dhan works from 3pm-3am, gets home at 3:30am and stays with Abinav until about 6:30 or 7am when Jasmin takes over. He sleeps until about 12pm, then gets back up to help take care of his son until he leaves for work again.
It's the hard-knock life
Don't it feel like the wind is always howl'n?
Don't it seem like there's never any light?
Once a day, don't you wanna throw the towel in?
It's easier than puttin' up a fight
It's been a rough few years for the family, though they've been trying their best to stay hopeful. In addition to Abinav's emergency, Jasmin herself nearly died in 2018, following complications from her c-section and delivery of Abinav's little brother. She spent 23 days in the hospital with substantial blood loss, eventually requiring a hysterectomy.
"Since then, Jasmin has not been well," Dhan told us.
Thankfully, even when life is handing us the worst it can offer, there's still hope to be found. The family's social worker told them about Chive Charities and recommended they apply for a wheelchair-accessible van to help ease some of their burden. If they can't have their own living space, at least they can have their own safe and reliable vehicle.
Through your contributions, we funded a blue 2017 Dodge Grand Caravan ADA van for a total impact of $49,057. Thanks to our partner, AMS Vans, for helping make it happen.
And because Abinav requires extensive medical equipment, we also reached out to our friends at DuroMax to see if they could help provide a generator as a backup power source for his equipment. They generously agreed and sent one to the family straightaway.
"We are so grateful for this help," Dhan said. "We can't take him to the hospital without calling 9-1-1 or the medical transport, which can take hours. Sometimes, the battery on his equipment will start to die because we've waited so long.
"Now, we can take him to the hospital, doctor, go out with our family…so many things that weren't possible before. Thank you so much for helping us."
It's been a hard-knock life, that much is certain. Moving to a new country, enduring a medical crisis with their child (and then Jasmin herself), unreliable transportation, and living with other family members…it's been a lot.
It might be easier to quit than put up a fight, but they haven't. They keep showing up, putting in the work, and holding on to that hope for a brighter future. Donors like you helped renew that today.
In a world full of Annie's getting tricked instead of treated or kicked instead of kissed, you can be the Daddy Warbucks that changes everything. All it takes is you. DONATE HERE.