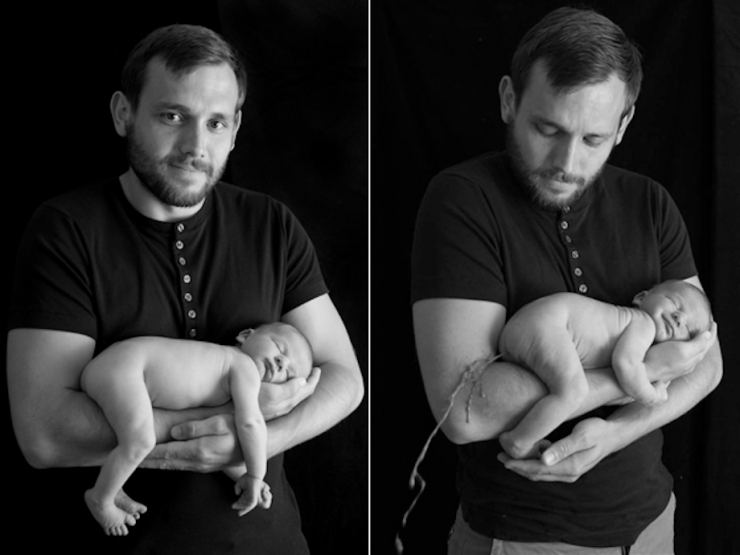 They're born to parents wide-eyed with joy, love, fear, and a vague understanding of what's to come. There will be good times and bad, an abundance of cuteness, and, of course, some messiness. There will be poo. Everyone knows that. But then this kind of thing happens and it gets real.
So, this is Leon, his family calls him Lee. Not long after this pic was taken, Lee took "everyone poops" to a whole new level.
I'm talking watery, explosive, no-diaper-could-contain-it diarrhea, upwards of 24 times a day. Twenty-four.
He had kind of a rough start to begin with, born six weeks early, but he was a fighter from day one. He bucked the ventilator in 12 hours and went home with his family just 10 days after he was born. All things considered, Lee was rockin' it.
But by the time he was five weeks old, Lee was a very sick baby.
"He was always in the ER," his mom Corranda recalled. There was the diarrhea – doctors dismissed it over and over; a case of thrush that just would not go away; tiny bumps under his skin; little to no weight gain; sunken eyes. Eventually, he stopped eating.
And then there was the smell. If you've ever been with someone very close to dying, you may remember their breath smelling kind of sweet, kind of sour, as they near the end of life. Lee's mom is former hospice CNA, and when she noticed the "death smell" coming from her newborn, that was it. Lee was rushed back to the hospital.
Lab tests that August night clocked Baby Lee's blood sugar at 782, a result so unbelievable, they ran it again just to be sure. "Most adults can't live past 500," the doctor said in disbelief. How had this baby managed to survive? He was in diabetic ketoacidosis, a condition practically unheard of in babies.
There's no manual for raising kids, no manual for life at all, but when you come across a solid piece of wisdom, you should pay attention. This is a good one.
Corranda admitted when the endocrinologist revealed her two-month-old had diabetes, she just lost it. "Where do you go from here? What do you do? Well, this is what you do. You regroup, you cry, you scream, you do whatever is necessary to get to the next step." So they did.
Lee's family learned the ropes of caring for a diabetic infant. Every three hours, his mom, dad, or Grammy poked his tiny finger to check his blood sugar, then gave him insulin and/or fed him as needed. Rinse and repeat. There was no sleep, and there was an abundance of heartbreak.
Meanwhile, his endocrinologist was on the hunt for answers. Why did this little boy have diabetes? In September, there was news.
"Your baby has immune dysregulation, polyendocrinopathy, enteropathy, X-linked (IPEX) syndrome," the geneticist said, adding, "If he doesn't receive a successful bone marrow transplant before the age of two, he will most likely not survive." His parents were stunned. "Wow, what do you do with that? Just staring at that little bundle of joy you have, how can he be so little and so sick?"
IPEX is a rare autoimmune disease that only affects boys, and the only cure is a bone marrow transplant. Lee's family did what they always do, and took the next step to save their baby's life. They checked him into St. Louis Children's Hospital, where Lee was fitted with a feeding tube, IV port, insulin pump, and a Dexcom monitor to keep track of his blood sugar 24/7. Then, they got down to business preparing for the transplant.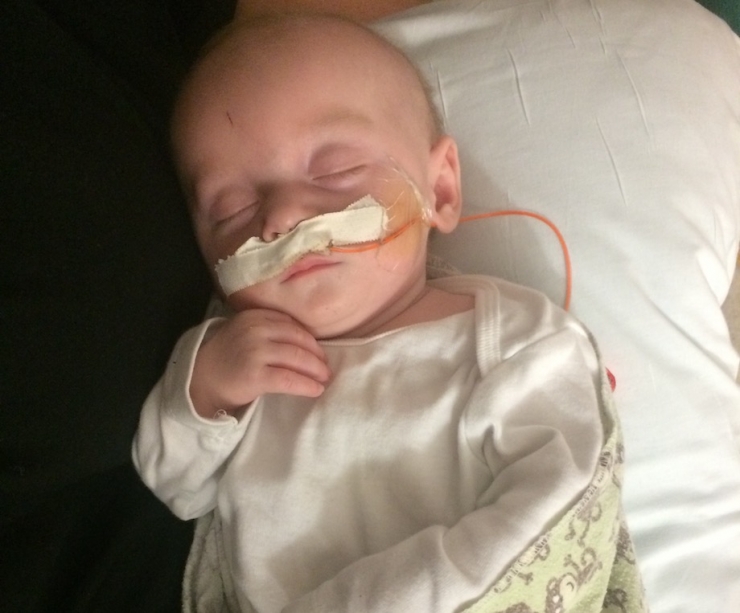 It was a whirlwind. The donor match was found within the first week – a miracle in itself – followed by two weeks of chemo to kill off Lee's infected immune system before healthy donor cells were introduced. Transplant day was December 2, one day before Lee turned six months old. Compared to every day before, it was "the most wonderful, uneventful day ever!"
This little trooper fought so hard.
He started getting better. Stronger. Having sweet moments like these.
He celebrated holidays, loved on his dog Ellie.
He even started daycare last November, a huge step for his fragile little body.
It's taken a lot of work to catch up with other kids his age, and there's still so much more to go. He's battling through a speech delay, communicating through baby signs and building up his vocabulary little by little. He loves playing at the park, building with blocks, and is super chill for someone who started life with such a bang.
There's just one thing.
While the transplant was a success, and his IPEX is in remission (yay!), diabetes will always be a part of his life.
"We live with it daily and fight to keep him alive," his mom said. "The insulin pump and Dexcom are life savers," she added. "Not sure we would survive without either."
You guys know Nikki, right? And that's our pal Brad on the right. Nikki organized an office-wide blood donation last week, and we were all happy to jump in. That pre-donation finger prick, though, it's not awesome. It made me think about tiny Baby Lee getting his fingers pricked 11 times a day before he got the Dexcom monitor. Ouch.
Besides reducing the blood-letting by two-thirds, the Dexcom provides constant feedback on Lee's blood sugar, which is nice because he can't really communicate how he's feeling yet. It's already saved his life a few times, alerting his parents to dangerous levels they would have missed in the middle of the night. I'd say that's priceless, but it does come with a price tag.
Keeping the Dexcom up and running costs around $6k per year, but if it's the Dexcom that makes a difference for Lee, the Dexcom is what we're doing. With donations from our monthly Green Ribbon members, we covered a year's worth of monitoring to keep Lee safe and give his family peace of mind. That's a right bargain if you think about it.
Lee's mom wanted you to know, "There are no words, not enough words to show gratitude for the donors who make these grants possible. I can't imagine not having Lee in my life, and it's reliant on that one piece of equipment. We're so very grateful."
Giving little warriors like Lee a fighting chance is what Chive Charities is all about, but we need your help. Click HERE to become one of the selfless monthly donors who are absolutely the wind beneath our wings.