It begins around 4pm on Thursdays at theCHIVE. Veterans and active duty service members arrive at theCHIVE HQ hoping for a tour and a cold beer at theCHIVE's famous Copper Bar. I scramble to finish the Daily Afternoon Randomness on time and join them. We blast 80's music, and we talk about anything and everything. Someday, I'll look back at my stewardship of theCHIVE and these happy hours will be my favorite part of all this.
Last Thursday, I found out we had two special guests arriving from San Antonio – our latest Chive Charities recipients – A married couple, Michael and April Lage, both veterans who had been injured on duty who found love against all odds. It was love at first sight for me, too. Frankly, these two are some of the funniest and most charitable people I've met. Both are active in more charities than I can innumerate. April's work for female veterans alone from the OARS Challenge to Ride to Recovery are enough to stack a calendar year.
The couple arrived at theCHIVE's copper bar. Michael told me, "I've been wanting to belly up to this pretty girl for a long time."
Michael Lage, an Army Staff sergeant (SSG), was on his 3rd deployment in Iraq when his armored vehicle was hit by a devastating IED (Improvised Explosive Device) on June 20, 2007. I asked if he minded recounting the event for me. "I don't remember much, but I could probably remember better if you gave me a beer."
Where were my manners? I handed Michael a cold KCCO White Wheat, and he recalled, "It was a night raid, and we were circling back to our position when the device detonated. There were five of us. I was the only survivor. They found me crawling away from the explosion, on fire.
I was first stabilized in Iraq, flown to Germany for further stabilization, and then transported to Fort Sam Houston for extensive, long term care. From Iraq to Fort Sam Houston, I died six times and was revived."
The following image is not for the weak, you've been warned:
"While at Fort Sam, I underwent treatments and over 100 surgeries including a left hand amputation, right thumb amputation, splenectomy, facial reconstruction, smoke inhalation damage, sleep apnea, neck vertebrae breakages, skin grafts and various others."
"The worst part is the steel wool they use to scrape the burned skin off. That was the most painful thing. There were weird things too. For example, I used to have a tattoo on my leg, and they needed the skin from that leg to graft my arm. So, now my leg tattoo is an arm tattoo, that's kinda' funny."
Michael's life after his injury was full of despair. "I lost my sense of purpose. I was unable to cope with reality in any way. But everything changed when I met April. She pushed me to try adaptive sports through the adaptive sports program at Fort Sam Houston, TX."
"I initially conquered archery by using a mouth tab. Then, I accomplished shooting, softball, dodgeball, volleyball, kickball and cycling. In 2013, I participated in Warrior Games. I took silver in cycling and bronze in shooting. I realized there was a life after the Army, after my injury."
Pictured: April and Michael with kids: Draven, Dorian, Chloe, and Seth
April served in the Army Military Police Corp as a Specialist (E4). She had also been injured on duty. Her injuries resulted in multiple surgeries, one of which included her right leg having to be surgically amputated and reconstructed.
In addition, her lower spine had to be fused which resulted in her having to wear leg braces daily and use a cane when walking long distances. She suffers from daily pain and told us that she woke up crying the first night after being able to sleep in her new adjustable bed. The bed alleviated the awkward angles at which she used to prop herself up at during the night just to get some sleep.
This is where Chive Charities stepped in. Both April and Michael had difficulty sleeping and badly needed a custom, adjustable bed. Chive Charities purchased a $10,000 Tempurpedic Flex Bed with a fully adjustable base.
The flex bed allows for each of them to have exclusive control over their side of the bed to allow blood flow to different areas. For those of you who have ever had the chance to lay down on one of these beds in a showroom, you know you don't lay on it unless you plan on buying it. The experience alone will make your bed back at home feel like Barney and Wilma Flintstone's.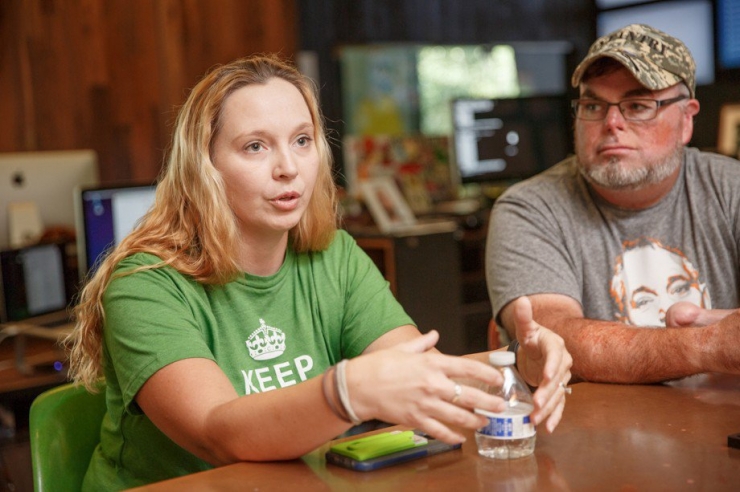 Michael and April arrived at theCHIVE to thank us for the bed. They are finally getting badly-needed sleep. But they also came for another reason, they wanted to talk about life after being injured in the military. April said, "A lot of people don't know that sometimes people who get hurt go into hiding. We don't talk about that and we should. But it's hard to talk about something you don't see. We go hide away and don't go out in public."
"So, we're coming out and trying to help. I know there are veterans out there reading this on theCHIVE right now. I just want you to know there are others out there like you and there are places you can go for help. Places where you can learn to be yourself again, love yourself again. I always had a sense of humor, for example, and I learned it was ok to just be funny again. You know,just be."
It was a phrase I'd heard before, just be.
Tommy Kim was a regular at the Copper Bar. When this photo was taken, he'd survived brain cancer for the second time. Tommy had come in to celebrate. At the time, we were just building out the copper bar. You can see how bare it is behind us. Tommy pointed out, "Your bar needs personality, man. You should let the soldiers and sailors put their patches and challenge coins on the shelves. Make this bar the place they can come after deployment and just be themselves again." I remember that he said just be."
A year later, I got a call at 6 am, Tommy's cancer had returned. His third battle was his last. On March 6th, one day after his 36th birthday, Tommy passed away. But his legacy lives on.
Since Tommy added his personal touch, the Copper Bar has hosted thousands of veterans and active duty service members to come and just be. Caleb was given the first ever Keep Calm t-shirt ever made. Somebody had paid $22,000 for it at auction and then returned it to Caleb after he'd beaten 4 Right Parotid Mucoepidermoid High Grade Carcinoma, one of the rarest cancers in the world. In all, the Chivers had raised over $100,000 to save Caleb's home…
"Is there anything else we can do?" I asked. April said,
"Keep doing what you're doing and keep helping our veterans. Even if it's just giving them a place to go to just be for a while."
"Done."
April got up from her barstool, "C'mon now, Michael, we gotta go, and I'm your designated driver." She laughed, "It's not like you can thumb your way home." We laughed and said our goodbyes.
Thanks to Tommy and our veterans, theCHIVE's Copper Bar proudly displays the patches of Chivers who have visited, but it's also lined with the patches and name tags of the lost. Tiny pieces of the fabric of their lives remain here. It's why on Thursdays and Fridays veterans and active service members are welcome to make an appointment to visit and just be.
The patches remind us of the stark truth about military service, some make it, some don't. Some survivors have scars, some physical, others emotional. theCHIVE, Chive Nation, and Chive Charities will always be here to help the scars heal, and ease your pain the best we can.
KCCO,
John
Epilogue:
We didn't need a flash campaign for this story, Chive Charities' donors picked up the $10,000 tab on this one. This post is dedicated to your steadfast commitment to the underdogs. And to April, Michael… and Tommy Kim.
Find out how to become a Chive Charities donor RIGHT HERE and meet April and Michael at this year's Green Gala.