Maybe that's a little dramatic, but you get the idea. Walking among us are people who thrive on compassion, who feed off making others happy, and not in a patronizing kind of way. They're genuinely positive and kind, and you're a better human after spending even a little time with them.

Josh is one of those people. You understand his spirit just by hearing others talk about him:
"He truly is the brightest light that came into our world."
"It's impossible to be unhappy around Josh."
"Josh is the heartbeat of the family."
And then there's this one: "Even now that he can't physically do as much as he could before, Josh's main concern is being there for everyone else in their time of need."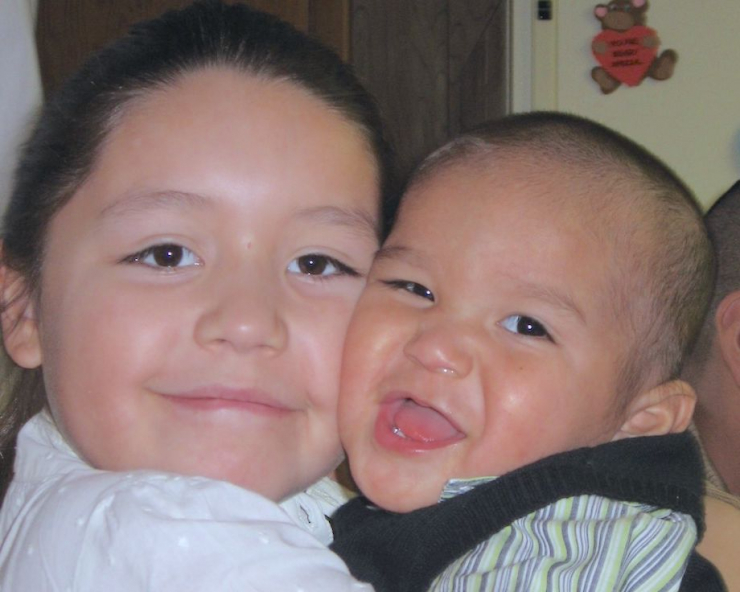 I think he was just born that way. Josh came into the world on a bright, sunny day in June of 2005. His sister Carissa was seven, brother Elijah was two, and his parents David and Marcie were thrilled to complete their family with another healthy baby boy. After four years in the Marine Corps, David and his family settled down in a suburb southeast of Chicago. Life was good.

"Carissa and Elijah were so excited about their little brother, they counted his fingers and toes at the hospital to make sure he was ready to come home with them," Marcie smiled. She told me all about Josh, about the radiance that emanated from him Day 1; how even as a toddler, he picked up on others' emotions and showed more empathy than most adults; how if he sensed someone was having a bad day, he would shift his focus to make sure they felt loved. What kind of kid does that?
I'll tell you what kind: Josh Flores.

For years, Josh was pure joy to everyone he met. But when he was four, his parents noticed something that changed their lives forever.

"We started to grow concerned because Josh seemed to be abnormally clumsy – he would stumble and fall when he walked, and after a series of bad falls, he ended up in the hospital. After that, we knew it was time to see a specialist." Marcie remembers.
The neurologist examined Josh, asked some questions (which Josh answered himself), and ordered more tests. Within a few months, he called Marcie and David with very bad news: Josh had a type of leukodystrophy called 4H syndrome, short for hypomyelination, hypogonadotropic hypogonadism, and hypodontia. It attacks the central nervous system by disrupting the growth of myelin sheath in the brain, causing problems with movement, speaking, vision, hearing, and mental and physical development.

Over the next few years, Josh lost the ability to run and walk, and started using a wheelchair to get around.

Of course, he still had places to be.

People to inspire.

Comfort to give.

And probably hearts to break, if we're being honest. Would you look at this kid?

But 4H wasn't done with Josh. It also robbed him of just about everything a human needs to be independent: the ability to eat, bathe, dress, and see the world as only you can see it – all stripped away before his 13th birthday.
"Leukodystrophy is an incredibly cruel way to see your child's body wither away," Marcie said quietly.

"Watching his body shut down, skill after skill…I mourn for the son we once had. I mourn my son's voice, because with leukodystrophy, his speech has been affected, and he's often difficult to understand. I mourn my son's name, because he used to be able to write it on his homework and art projects. I mourn, every single day, the family we used to be."

Moments like those, when the darkness creeps in and that fundamental light begins to dim, they're rare in Josh's family. But the reality of his disease is becoming hard to ignore, and Marcie worries about their future.

Chive Charities grant recipients often tell me how hard it is to get loved ones who rely on a wheelchair to the places they need and want to go. How they often stop going anyplace fun or relaxing at all, saving the effort for doctor's offices and therapy appointments, and are effectively cut off from the outside world.
The part that gets me every time, though, no matter how many wheelchair-accessible vans we give (this is #98 btw), is the visceral, soul-piercing desire for dignity and compassion.

"We want Josh to live a comfortable and meaningful life. We want him to have some happiness amidst the heartache of his diagnosis. We want to be able to have some sense of normalcy, and not always feel the pain and sorrow that comes with having a sick child. Although we don't know what the future holds for our Josh, we are certain that, until the very end, we are going to make every day count for our beautiful son."

A few weeks ago, we sent Marcie, David, and Josh to Mobility Works to pick out their new ride. Our kind and caring monthly donors made it possible for us to grant Josh's family $49,000 for a wheelchair-accessible van, but somehow our lines were crossed, and Marcie thought we were only covering half the cost. When the dealership told her the good news, well, Marcie couldn't believe it.

Kids like Josh, people who bring goodness and light to the world, need our compassion and care when they're no longer able to care for themselves. Restoring their mobility is one of the best ways we know how, and there are many more bright souls in the world that need our help. Are you in? Become a Chive Charities monthly donor RIGHT HERE.
As always, big thanks to BraunAbility for their partnership in making stories like this possible.