Matthew's larger-than-life confidence is only a fraction of what makes him so special. It's as if there is a light inside of him and it burns brighter than anything that happens to him. Everyone is attracted to that light, and no one is immune to his charm. "He had such a confidence," Matthew's mom Susan told us, "He never came home and cried about anything." In fact, Matthew never had time to feel sorry for himself. He was always on the move, playing adaptive basketball, flipping the coin toss at the local football games. He went golfing and even tried skiing, and swam as often as he could. When they would go into town to run errands, Matthew would have to stop every five minutes and say hello to people he knew, introducing them to his mom. When they checked out at the supermarket, Matthew knew the names of every cashier. "He met a lot of people," Susan remembers, "he touched a lot of hearts."
Then, tragedy struck.
At birth, Matthew needed to have a programmable VP shunt put in. A shunt is a device that diverts cerebrospinal fluid from the ventricles of the brain to another body region where it can be stored. For 7 years, it worked fine. Then, Matthew suffered a brain inflammation so doctors removed his top vertebrae. A month later, Matthew began complaining of neck pain. Quicker than anyone could have anticipated, Matthew's shunt malfunctioned and the increase in pressure caused his brain stem to herniate, which led to a stroke. After The Event, Matthew never spoke again. Because his brain continued to swell, doctors had to conduct emergency surgery to remove half his cerebellum. The cerebellum controls all of the body's coordination and movement. Since the stroke, Matthew can't smile, he can't blink, he can't squeeze his Mommy's hand. All of his abilities were taken from him without warning.
Doctors prepared Matthew's parents for the very real possibility that he would not survive. They kept using words like catastrophic and devastating, but Susan and Tom were only half-listening. They knew Matthew had it in him to fight. For the first 48 hours, they held their breath. When Matthew made it through that hurdle, they set their sights on the next milestone. And after 8 days, he opened his eyes.
We cannot control what happened to Matthew, nor can we ask why such bad things happen to good people. But Susan said it best: "Children who are robbed out of their childhood by a terminal illness or disease deserve only the best out of life." We wholeheartedly agree. Matthew absolutely deserves the best out of life, and that's where we come in.
Matthew loved participating in team activities, which was why he was also on a field, a court, or playing with his peers. He loved to be right in the middle of the action.
Here's Matthew with retired Buffalo Bills quarterback Jim Kelly. Susan told us, "They always shared a special bond." Matthew has a way of forming special bonds with everyone.
Matthew hanging with some airplanes and pilots, no big deal! Here, he and his family visited the Canadian National Exhibition, a trip they took nearly every summer. He loved it there.
Did we mention Matthew was always smiling?
After the stroke, Matthew's life forever changed. His family did not leave his side for even a moment while he was recovering in the hospital.
Once he was better, he wanted to participate in as many community activities as he could. He still wanted to cheer from the sidelines, even if he could no longer cheer out loud. Here, mom Susan and Matthew show support for the local youth basketball team.
Between two birthdays, Matthew's life as he knew it had changed forever. But his spirit remains unchanged, intact. He is the same person, only he has been tested on every level imaginable. After The Event, doctors hung their heads in defeat. They brought in the palliative team to make Matthew comfortable… but they didn't know Matthew. They didn't know the enormity of his strength. Matthew left the hospital, changed, but he left. And he celebrated another birthday, and then another one. He will continue to fight.
Around here, fighters have another name: underdogs. And Chive Charities will forever champion the underdogs.
Matthew needed a wheelchair ramp leading to his house so Susan didn't have to carry her son every time they left the house to catch a football game or go to Physical Therapy. So, we built them one.
Now Matthew can have a shred of normalcy back and be out and about in the community as much as he'd like… without worrying about his safety.
With a $13,000 grant, Chive Charities helped Matthew regain some of his independence. A wheelchair ramp to his home will give him freedom and flexibility, ADA bars in his bathroom will keep his safety of paramount importance while he bathes, and medical storage bins will keep his machines sanitized and nearby, always.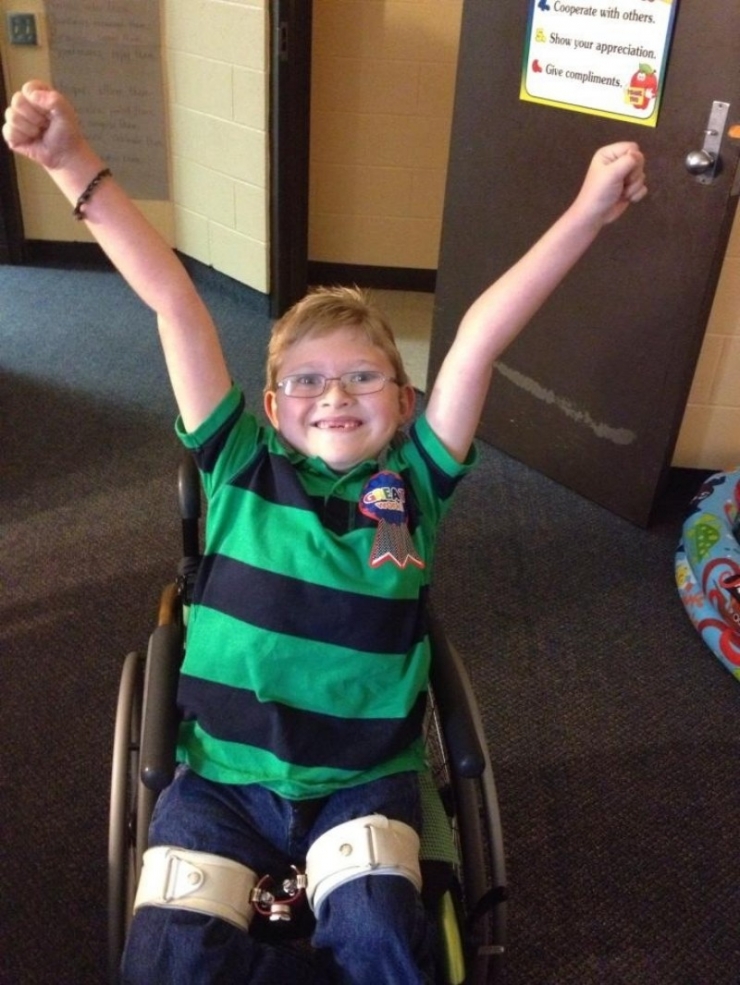 For that time in the hospital before Matthew suffered the stroke, he wasn't worried or nervous about his future. He didn't have the time for that. He was busy… being Matthew. His room was always full of people coming and going, the hospital's Music Therapist would stop by at least once a day and bring their guitars to sing in Matthew's room while he listened with the biggest smile on his face. The nurses found out his favorite candy was Starburst and would sneak it to him when the doctor wasn't looking. He had a way about him that made everyone feel comfortable, happy. He understood, at a young age, that relationships are the most important thing on Earth. He said "we are all here to spread love to one another."
Thank you, Matthew, for reminding us why we're all here.
To change lives like Matthew's, become a Chive Charities member and start spreading the love today.