America's feelings about Raider Nation fall on a pretty wide spectrum. You don't have to look far to find people who love 'em, hate 'em, or don't care either way. The whole thing started sometime in the 1990s, when the Raiders moved back to Oakland and some hardcore fans adopted the same bad boy persona that landed the players in the nightly news.
I can see where this could be polarizing.
While researching fun facts about the Raiders for this story, I stumbled upon a description I think you'll find as serendipitous as I did: "The city of Oakland's working-class background and 'underdog status' compared to its neighboring city of San Francisco is cited as the foundation of the Raider Nation and its image."
We definitely have a thing for underdogs around here.
Douglas grew up on the gulf coast of Louisiana, and the only time you'd find him sitting still was on Sunday – for church, or watching Raider football. He played football in high school, just like a lot of boys growing up in the South, and watching Marcus Allen plow his way through a record 8,545 yards was a throwback to the good ole days.
Every other minute, though, Douglas was busy. "He never believed in sitting around wasting time. He believed time was valuable," explained his wife Keena. He worked in oil fields and coal mines, on a fishing boat in the bayou, took care of the house and the yard, hunted, and traveled. He was the definition of "go-getter," maybe a borderline workaholic if you ask his wife.
Except when it came to his family. Douglas made big, beautiful productions out of holidays and family gatherings – tons of people, Cajun food, music, laughter, love – everything you'd expect from a family with deep roots in a small town. He loved going to the beach, riding go-karts with his son Douglas (the third), and playing Cookie Monster with his daughter Dallas. He loved road trips, especially to the Audubon Zoo, New Orleans Riverwalk, and the French market, and he adored romancing his wife.
Raider legend Bo Jackson said, "Don't run too fast through life. You only have one."
Douglas and Keena have known each other their whole lives; they started dating young, and their two kids grew up in the very same town. There was no shortage of extended family around or things to do together. Douglas loved every minute of it.
Keena told me they "practically live at the end of the world," but it sounds like the whole world is right there.
According to Raredisease.org, patients who are ultimately diagnosed with a rare disease wait an average of four years before receiving a diagnosis. That's four years of symptoms, testing, fear and worry, and time forever lost.
In 1999, at age 29, the clock started ticking for Douglas. It was the middle of the night and Douglas was driving a Cat dozer at the coal plant when he began sweating and hallucinating; he was conscious but not fully present, believing he was back in high school; his body shook and his sense of smell was heightened, and his friends and family were scared. Emergency room doctors thought it may have been an anxiety attack, but a follow-up appointment with a psychologist earned a diagnosis of paranoid schizophrenia.
"I began thinking a thousand thoughts while shaking my head NO," Keena recalled. "My husband was always of sound mind. I could not believe this was happening to him, to us."
A third evaluation seemed to discredit the schizophrenia diagnosis, but that left Douglas and his family without answers. The clock ticked on.
Douglas went back to work as best as he could. But walking, driving, and even simple physical tasks were increasingly difficult. A 2002 MRI showed nothing abnormal, which frustrated the hard-working, outdoors-loving, perpetually-in-motion Douglas. He was released from his job and struggled to land another. Failing the required physical for a new job was the last straw.
At Keena's request, he made an appointment at Charity Hospital in New Orleans, where he met a doctor just about as stubborn as he is. She vowed Douglas wouldn't leave without a diagnosis and got right to work. After months of extensive testing, a CT scan showed calcium deposits on Douglas' brain. Dr. Smith delivered on her promise.
It was Fahr's Disease, a genetic neurological disorder that was robbing Douglas of his muscle control. It's incredibly rare and there's no real course of treatment; doctors will continue to address his symptoms, but that's all they can do.
Life did a 180 for Douglas.
Instead of carrying his family, he leaned on his family more and more.
As expected, his motor skills deteriorated dramatically, and now he needs help with even the most basic self-care. In 2009, he had a feeding tube placed to reduce the risk of choking, which meant the big family dinners he loved so much would never be the same.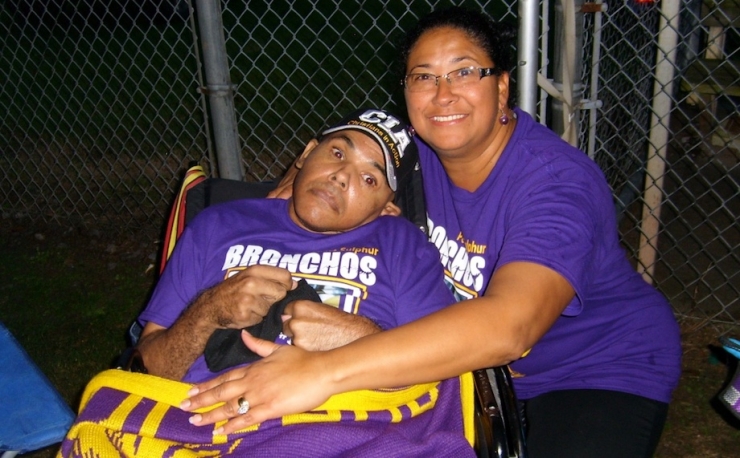 Unable to stand or walk, he's completely wheelchair-bound, and the family car is on its last leg, so doctor appointments and simple outings are incredibly difficult – forget about the travel that made Douglas so happy.
Despite his festive ensemble, the loss of mobility is taking a toll on Douglas. He's ready to see people, see places, see life again. People come see him – in fact, they hold a fellowship at their house on Sundays since he can't get to church – but it's just not the same.
"Being confined to a bed, not being able to get fresh air, to see nature…he's always been outdoors," Keena explained. "We travel not to escape life, but for life not to escape us. I just want to get him out so life won't escape him."
Keena is a really smart lady.
When she first reached out for help, Keena told us, "I have to borrow a family member's vehicle to bring Douglas to the doctor, which is still a challenge. There are times where I have to call for an ambulance to transport him." No.
The generous monthly donors to Chive Charities ' Green Ribbon Fund stepped up again, and Douglas and his family received a $50,000 grant for an ADA-accessible van. Keena wanted me to tell you guys the gift made her think of the Bible verse "There is no greater love than to lay down one's life for one's friends," because when people give their time, money, and effort to bless those who go through difficult situations like this, it speaks volumes of their character.
By the way, four years passed from the night Douglas first experienced symptoms to the time he was diagnosed. We hope by telling his story, and all the amazing Chive Charities stories, we'll increase awareness of rare diseases and shorten the time other patients have to wait for help. Just by reading this article, you're changing the game for patients in the future. Did you know you were so awesome?
While we're on the subject of awesome, we'd like to invite you to become a Green Fund Member and be a hero to people like Douglas every day of the year. Greatness is waiting for you RIGHT HERE.