Well, folks, it's the holidays, and the true reason for the season is, arguably...cheesy Christmas rom-coms. There's just something about these too-good-to-be-true, feel good movies where everything works out at the end that are perfect for the time of year when nothing ever really works out.
2001's Serendipity has all the qualifications of a cold-weather classic: missed connections, dreams of what could have been, and a reluctant faith in the universe. John Kusack and Kate Beckinsdale meet one fateful day, fall in love, but must go home to their respective partners. They agree that if they are meant to be, they will find each other somehow, someday.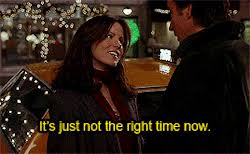 In the end, they are reunited in a blaze of predictable glory, and it's happily ever after. Part of the appeal of these cheesy movies is that this sort of thing never happens in real life, right?
Uh… Lucy and her service dog Luna beg to differ.
This little girl is Lucy, and she just experienced a Hallmark-level Christmas miracle.
Her story arc begins with tragedy: Lucy has an ultra-rare condition called Hemimegalencephaly (HME) which means that one side of her brain is bigger than the other. The result is seizures, and lots of them.
Lucy has been through a spinal tap, hooked up to oxygen machines, poked by needles desperately searching for a vein. Her tiny body has fought her since day 1, and the seizures she was experiencing were beginning to win. Her parents had to make the choice to put her on an aggressive medication, and it worked. The seizures slowed to a halt.
But, as Lucy nears her first birthday, everything is changing. This life-saving medication won't be an option anymore, as taking it past one year old can harm her growing body. The life raft this family has clung to is sinking, and her options for the future are nothing short of terrifying.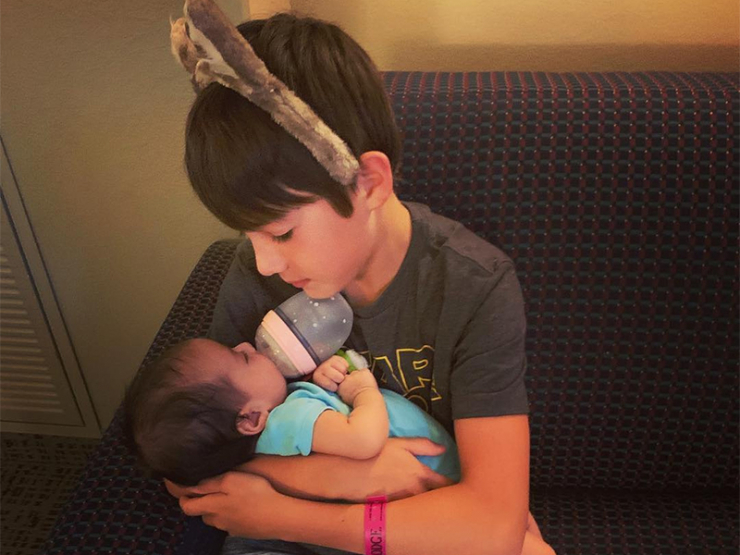 One of those options is a hemispherectomy. If this big word sounds familiar, that's because Lucy isn't the first Chive Charities recipient to face this procedure; our girl Roz has the exact same situation, and she braved the brain surgery that very well could be in Lucy's future.
Lucy's family loves this little girl more than anything else, and the thought of brain surgery on top of the quickly-approaching possibility that Lucy will begin having seizures again is almost more than her parents can handle.
Lucy's dad was deployed with the Army when they were starting their family, leaving Lucy's mom to work to help support her family. When Lucy came along, working was no longer an option for her. Her mom, who was also in the Air Force before meeting her husband, and then a small business owner has that warrior spirit, and has accepted that this family will face these seizures head-on.
But they can't do it alone, and that's why they reached out to Chive Charities. Serendipitously, Lucy's family was given an adorable golden-doodle named Luna by a family friend, who will serve as a seizure therapy dog for Lucy. Now, Luna has the dog part down, but the seizure therapy part is a learned skill. And an expensive one. After being burned by different therapy dog organizations, Lucy's family felt that Chive Charities was their last hope.
And we were thrilled to say yes to her grant! The price for a typical therapy dog training was in our budget, and we couldn't wait to get started fulfilling this wish for their sweet family. But as we did, the tides turned; it turns out, therapy dog training for Lucy's age range and particular needs was nearly TWICE the amount of what we were originally quoted.
Now, we've told y'all about our application process and how it's totally dependent on donations to make things happen for kids like Lucy. Just like in Serendipity, we had found a match against all odds, someone we were ready to give a happily ever after, but fate simply wouldn't allow it. We had to put her grant on hold.
This is the point in the movie where you start to question the happy ending. How could this happen? Will Lucy get what she needs to live a happy, danger-free life? These questions plagued us, too, and may have inadvertently sent us to the bar on the fateful day that Lucy's luck turned around.
At this particular happy hour, we had some special guests: a local Austin couple who heard about Chive Charities and wanted to know what they could do to help. They wanted to make a difference, and were especially interested in helping out with service dogs. As if we needed further proof that all good things happen with a beer in hand, we threw out a Hail Mary and asked if, by chance, they'd be interested in covering $15,000 of the $25,000 needed to cover Luna's training. Without hesitation, the answer came: YES!
This sort of thing isn't supposed to happen outside of Serendipity-level cheesy movies, right?? Well, little girls aren't supposed to have to need brain surgery either, but that's the world we live in. And sometimes, the world we live in is FREAKIN' AWESOME!
Amid the cheese, Serendipity offers one nugget of absolute truth: "Life is not merely a series of meaningless accidents or coincidences, but rather, it's a tapestry of events that culminate in an exquisite, sublime plan."
Lucy's grant almost slipped through our fingers, and we were as powerless as she was. But the universe did its thing, and now Lucy will be protected by a big fluffy dog who is specially trained to detect seizures before they happen and keep Lucy safe when they're happening.
"When this started, I was told that my daughter wouldn't live past 10 years old," Lucy's mom told us in tears when we got to tell her that she was for sure getting the grant. "Then Luna came into the picture, but I didn't think we could get this training to happen. This little girl's life, what little impact a dog can have has actually been such a huge impact. These donors are guardian angels."
Not every story gets such a beautiful happily ever after, but thanks to our dedicated monthly donors, and particularly to these new anonymous guardian angels, Lucy's story does. You, too, could play a role in giving people in need a more wholesome ending than a John Cusack movie, and you can do it by becoming a monthly donor with Chive Charities HERE!