When Cpl. Casper returned home safely, he experienced many emotions but relief wasn't one of them. While he had sustained a back injury, TMJ and arthritis, he was suffering the most from internal wounds nobody could see. He, like many other veterans, was feeling the unforgiving effects of PTSD. Often, Casper would be immobilized with severe migraine headaches. For months he lived in darkness.
"I had short term memory loss to go along with my anxieties, depression, and some back problems. Even though I could leave my house, I never wanted to because of my anxieties and just this deep feeling of wanting to be by myself. I found no interest in normal things like sports or hanging out anymore."
"Even though I could leave my house, I never wanted to because of my anxieties and just this deep feeling of wanting to be by myself."
To avoid turning into another statistic, Richard sought out an art class in Bloomington, IL. What he didn't realize at the time was how much that small decision would change the trajectory of his life.
The transformation didn't occur immediately. For two years he learned how to communicate with the world through his artwork. Richard could see the difference in himself was undeniable, and he knew that expressing himself through a creative outlet was the reason. Slowly, he started forming an idea to help other veterans in the same way. Because Richard was working as a bouncer at Joe's, where they hosted live music nearly every night, access to singer/songwriters was easy. But getting them to listen to him was the hard part. Finally, someone heard what he had to say.
Although he had the night off, Richard took a seat at the bar. He knew there was a writing round for four professional songwriters, and he was planning on approaching them after the show. The most well-known songwriter onstage was Mark Irwin, who had written for Tim McGraw and Taylor Swift. Backstage, Richard asked if he was interested in collaborating with veterans and helping them turn their stories into songs. Instead of walking away as others had done before, Mark wanted in on the spot.
With Mark on his side, Richard's vision had some traction. What soon materialized was the basic structure for what would become Creativets, a life-changing (and in Richard's case, life-saving) experience aimed to help disabled veterans cope with returning home. His idea was to give vets an opportunity they couldn't turn down. He knew if he flew them down to Nashville, paired them with musicians and songwriters, and covered all expenses for 3 days, they would come. And they would heal.
Enter Chive Nation. Creativets needed money to continue helping disabled veterans, and Chive Charities immediately responded with a $25,000 grant. Because of that donation, 25 veterans' lives would change.
Marine Lance Cpl. Luke Yepsen, pictured here in Iraq. Luke passed away December 14, 2006. He was 20 years old.
Prominent singer/songwriter Mark Irwin was the first to come aboard to Creativets. Since then, they've helped 12 veterans write and record songs. Many of these veterans had never even opened up to family or friends, yet when they post their performances on YouTube, they can't wait to share their stories with the world.
When he returned home with severe PTSD, Corporal Richard Casper couldn't even talk to people without vomiting or getting severe anxiety. Now, he can perform in front of hundreds.
One Creativets veteran put it best:
"I felt better about talking about myself and what happened to me in those few hours than I did talking to a psychiatrist for a whole year. Now whenever I need to be calmed down I can listen to or play the song we wrote, instead of sitting in an office talking to someone who doesn't understand."
As we wrapped up our phone call with Casper, I asked what the future for Creativets held. He casually mentioned that the Art Institute of Chicago was partnering with Creativets to offer three weeks of free art classes to veterans. This was an opportunity to be taught by some of the best art teachers in the country. Veterans would learn how to tell their story through a creative outlet, when words fail. As we listened to the excitement in Richard's voice, we knew our work wasn't over yet. This had Chive Nation's name written all over it.
On the spot, we came up with a crazy idea. Why not bring some Chivers suffering from PTSD to Chicago to partake in the opportunity? The Chive is honored to have so many veterans at the pulse of its community. Although they are strong and may appear to be fine, they may be struggling from wounds we can't see.
We're excited to share the journey of these Chivers with you, but we may need the help of Chive Nation to pull it off. Stay tuned for updates in the coming weeks.
Two months ago, I was on a Chive Charities team phone call with Richard Casper, the founder of Creativets. He was thanking our team for the hundredth time for the $25,000 grant. With child-like enthusiasm, he was telling me about how much he could do with this money; how many veterans' lives he could change. And he is the expert in changing lives, because after his best friend was killed in active duty, Richard was pulled under the riptide of PTSD. He couldn't leave his house, he couldn't see friends and family. Life as he had known it was over, there seemed to be no way out. He'd have to make one.
Richard was becoming increasingly trapped inside his own world. He was bottling up issues that were eating him alive, but he couldn't verbalize them. And they had to come out. He enrolled in some art classes and started playing guitar. Little did he know at the time, but that was his way out. The rest is Creativets history.
As we were about to hang up, I asked if there were any exciting events coming up in the near future. It just so happened, there were.
"Actually, and I still can't believe this, but the Art Institute of Chicago reached out to us and offered to give three weeks of free art classes to veterans."
"You're kidding," I said. "That's awesome!"
"It's a huge opportunity. When I started Creativets I never anticipated we'd be asked to do something like this."
"We're really happy for you, Richard."
"Yeah, it's great. There's just one thing."
"What's that?"
"I don't know how I'm going to get enough veterans to sign up in time."
I thought for a second, then smiled. "Well, I've got some good news. I think we can help you with that, this is theCHIVE after all."
So, we put up the story about Creativets on theCHIVE. At the end, we included a call-out. Any interested disabled veterans who were struggling from PTSD were encouraged to apply for this opportunity. Then, we waited. It wasn't long before applications started rolling in. Before the end of the day, Richard had enough veterans to qualify for the program.
This marked a huge success for a small non-profit like Creativets. Richard was ecstatic that so many of his fellow veterans were open-minded enough to try something like this. He told me about Gino, a life-long Chiver who unfortunately had something very grave in common with Richard. Richard's best friend Luke was killed in active duty. And Gino's best friend Randy lost his long, fervid battle with PTSD, and took his own life.
He also told me about Drew, an EOD Technician whose story was less explosive and more a slow, compounding progression into the depths of PTSD. His symptoms were textbook: hyper-vigilance, insomnia, flashbacks to the vivid and horrific images of war. He sought out counseling because he could tell his personality had changed, but his issues continued to haunt him. Then, his wife saw the article on theCHIVE.
The influx of veterans had presented a problem none of us had seen coming: Creativets didn't have the funds to fly out every veteran that had signed up. Because it took so much to even reach out and ask for help, Creativets vowed to pay for everything from the travel expenses to the lodging for 3 weeks. And they weren't about to turn anyone away. Not when the stakes were this high.
I knew what theCHIVE community was capable of, we watch Chive Nation shatter our Flash Charity goals time and time again. And now Creativets needs our support to save the lives of the very people who sacrifice everything for us.
We need to raise $15,000 so in a few weeks we can send deserving, Chiving, disabled veterans who are struggling with PTSD to Chicago. They signed up. They stepped outside their comfort zone. Some were talked into it by their wives, others were advised by counselors or friends. Some just knew they couldn't do it on their own any longer. Whatever it took to get them to this point, the only thing that matters is that they're here.
We're going to take it the rest of the way.
This is the Art Institute of Chicago. They reached out to Creativets to offer three weeks of free art classes to veterans with PTSD. Because Creativets had developed a structured program for veterans to write music, sing, and perform, they knew this would be another outlet for them to express themselves with just as much success.
Here is Drew Browne while he was deployed to Afghanistan. His job as an EOD technician was taxing and potentially life-threatening. He had to be constantly on full-alert. There was no room for error. And this mentality left little room for him to process the horrific events he witnessed at war.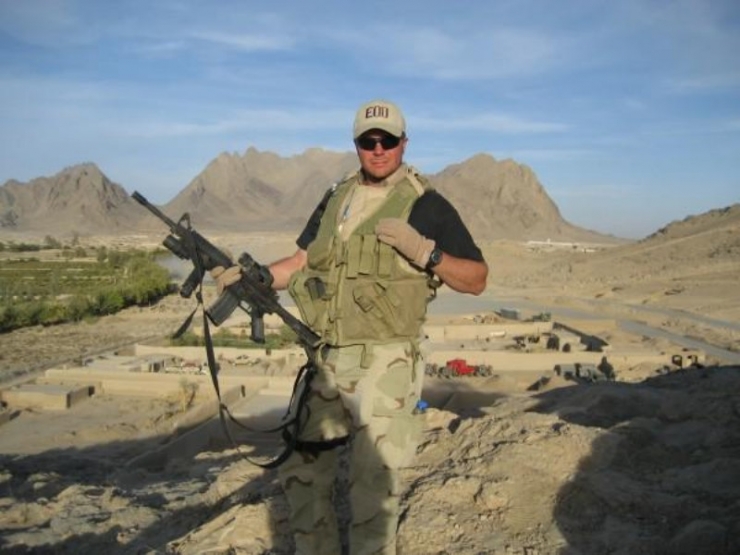 Browne says he has noticed a positive change in returning veterans. He says there is a "huge difference in the openness and transparency that veterans are willing to subject themselves to in reference to PTSD." This has made it easier for him to open the dialogue between himself and other veterans.
"Whether it be a WWII vet, a Vietnam vet, or a Korean War vet it's all the same unspoken language communicated through a greeting or sharing of war tales or similar experiences – what we did, why we did it, the pride that came from a job well done, and the sadness shared over lost brothers."
This is Marine Gino Soto. While he was at war, he relied on theCHIVE to keep him sane. He and his "fellow brothers would go to it to lighten the mood, break the ice, kill time, and even debate over who is the hottest eye candy to grace our eyeballs. It's really hard to narrow down why theCHIVE is so appealing. I guess it's a combination: you entertain, inform, connect, and bless so many individuals in need."
Here is Gino (left) with his best friend Randy. After returning from active duty, both Gino and Randy felt the effects of PTSD. No one knew, though, not even Gino, how much Randy was suffering.
Last year, Randy lost his battle with PTSD and ended his own life.
Creativets originated in a music studio, but since its inception it has evolved in many directions. Expanding to include stand-up comedy, performing, writing, and now art… he knows that sometimes it can be too difficult to rely only on words. Sometimes you need to be inspired by something.
In just a few weeks, this is the place that these veterans will find inspiration, and hopefully, salvation.
It's difficult sometimes to reach out and ask for help. Those who serve and defend our country are taught to remain stoic, calm, and focused, so for them it's even more challenging.
They do not ask for help, they give it.
They do not seek assistance, they provide it.
Our country depends on their strength and vigilance abroad, and for that we are eternally grateful.
But this is our opportunity to do something for them. They need to know they aren't in this alone.