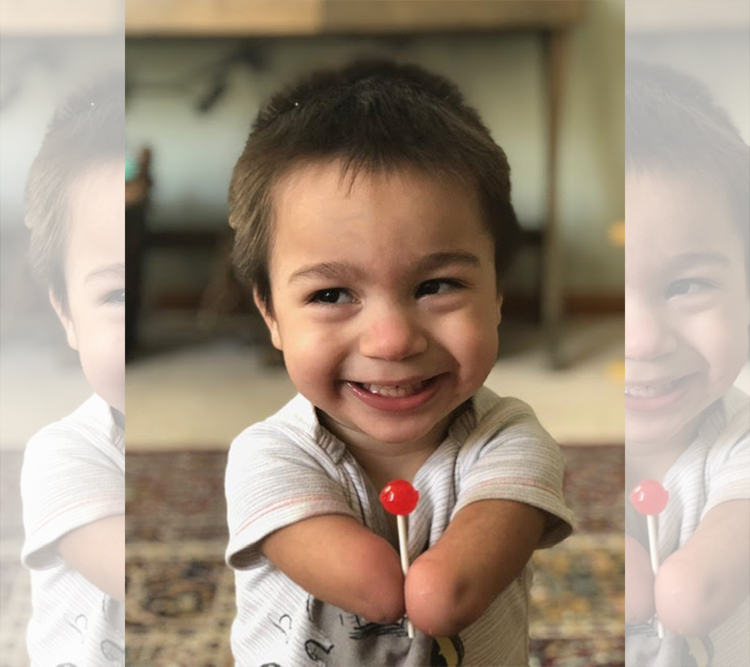 He's now five years old and as active as ever.
When we first met Henry and his amazing family - mom, Rachel, and dad, Ray, have 7 children in total, three of whom are adopted - they were simply looking for a resource for kids with limb differences. What they weren't expecting was the life-changing impact of Chive Charities and our community and the difference it would have on their lives.
Initially, the Flores family requested new hardwood flooring on the main level of their house so that Henry could easily navigate the space in his wheelchair. He also needed new silicon liners, so our dedicated donor family stepped up to cover both needs.
The family also had a stretch goal of getting Henry a child-size bidet and bathroom renovation to help give him some independence and privacy, especially since his current workaround was to use his face and mouth to pull his body up onto the toilet seat. While his ingenuity and resourcefulness should be commended, that doesn't mean it should be his only option.
Because of our committed donor family, a new option was on the way. The target was $10,000, and in typical fashion, theCHIVE community read Henry's story, saw his need and the goal, and promptly smashed it within the first 24 hours.
To date, over $62,000 has been raised for the Flores family, helping them renovate their bathrooms with a mini sink, child-size bidet, and shower setup for Henry.
So how do you get around a bathroom with no hands or feet? Let Henry give you a tour of his new digs.
How cool is this shower with controls that Henry can now reach?
And the coolest part, check out Henry's new toilet built right into the floor and touch sink. No more using his face to climb up onto the toilet!
But that's not all, of course Henry wanted to show off his new hardwood floors while hamming it up like only Henry can do:
You can check out the whole video tour from Henry below.
It's proof that you can never underestimate the power of your donations to Chive Charities. From contributions ranging from $5 and up, one boy's life was changed for the better. And while Henry's dream has been realized, it's never too late to join us in making the world 10% happier for recipients just like him. Become a monthly donor and DONATE HERE.