Henry Flores was born with no arms or legs. But don't tell him what he can't do. He's one of the most determined children I've ever met. Without complaining, he figures out a way to accomplish everyday tasks most take for granted.
It's hard to believe it's been over a year since we met Henry. At the time, the 4-year-old from Lees Summit, Missouri, was using his toy dump truck to roll himself up to the toilet. He would then use his face to prop himself on the toilet seat so he could go to the bathroom.
Where does Henry's grit come from? Maybe it's being 1 of 7 children, 2 others of whom are adopted, like Henry, by their incredible parents Rachel and Ray. It could come from the fact that none of his siblings treat him any differently. Or perhaps it's because Henry doesn't even realize he's any different, himself. One thing is for certain. Henry is a very intelligent, social, and energetic young boy who is destined for greatness.
But like so many of the underdogs we meet at theCHIVE and Chive Charities, the cards were stacked against Henry from the beginning. So we did what we do and we set out to change that.
Henry had a new wheelchair sitting in the corner collecting dust for months because the different flooring and transitions in their home made it impossible for him to navigate. Rachel got so fed up during the height of quarantine last year, that she tore up the carpet to the subfloor so Henry could finally practice using the wheelchair.
Naturally, Chive Charities monthly donors stepped in with an $8,000 grant to install new hardwood flooring on the main level of their house.
What's next?
Well we couldn't have Henry using his face for leverage to climb the toilet anymore. When I talked to Henry on Zoom, he told me his biggest wish was to have a tiny sink and toilet so he could wash himself and become more independent.
We thought theCHIVE community would respond to the need and so we created a flash charity campaign for a custom bathroom renovation suited to Henry's needs and set the goal at $10,000.
And the Chivers showed up, like they do, reaching the goal in mere minutes.
Henry's reaction when we hit the goal says it all! He was getting his sink.
But that's not all. Over 1,500 of you chipped in to 6X the goal and get Henry everything and more out of his new bathroom. $62,000 later Henry's life was changed.
Henry no longer needs the aid of a toy dump truck to go to the bathroom.
A mini sink!!!! Be still my heart.
I've always said that once we help a recipient, something unintentionally magical happens, usually far outside the original scope of the campaign. Well the magic is back with Henry…
For years, Henry has been using silicone liners on his legs to hobble around outside. Rachel's dream was to have Henry fitted for prosthetics so he could learn to walk but there's one huge roadblock – the cost. Even with insurance, the cost of a pair of prosthetics is $25,000. Not only that, but due to how rapidly Henry is growing, he'd have to be fitted for new prosthetics 4 times a year. I'm no mathematician, but that comes out to about the cost of one Bentley a year.
The cool thing about theCHIVE megaphone is that we use it to raise awareness for the cause via the individual. And you can't help but fall in love with the individuals while learning about the cause. And these individuals inspire us all to go above and beyond.
Aaron Holm, from Wiggle Your Toes, read Henry's story and shared it with his friend Jordan Thomas, founder of the Jordan Thomas Foundation (JTF), a nonprofit that helps kids get the prostheses they need to lead healthy and active lives. Shortly after Rachel applied with JTF, they were accepted!
Leading to one of the coolest moments of the year…
Ladies and gentlemen, Henry's first steps!
What's even more amazing is the fact that JTF will now cover all of Henry's prosthetic needs until he's 18! That's a lot of Bentleys!
If this doesn't fill your heart with joy, nothing will. What began as a project to provide a child without legs a basic human need, has resulted in Henry taking his first steps.
That is the power of theCHIVE Community on full display. And that is almost the end of my update.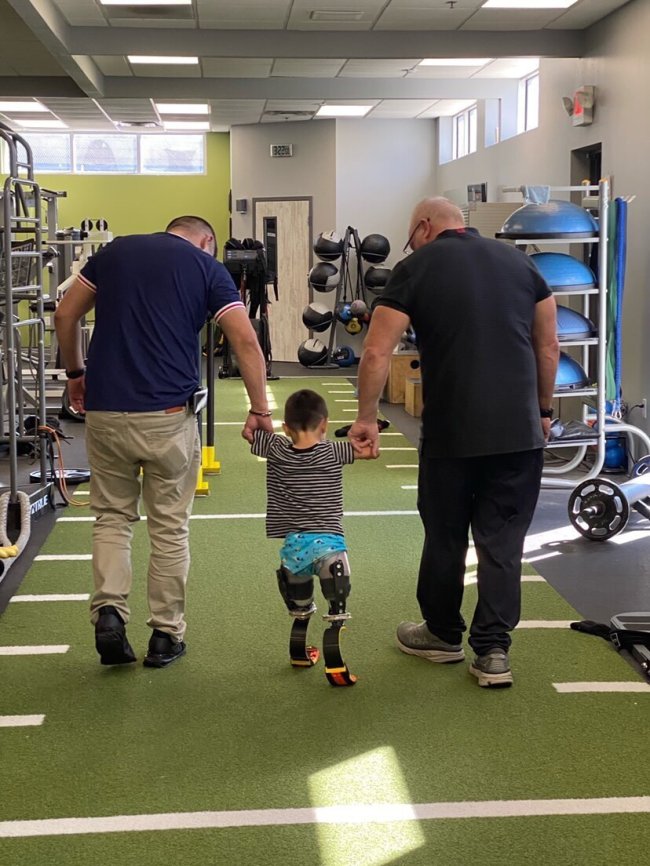 The snowball of goodwill continues next week with the Green Gala. It the only charity gala in the world that doesn't raise any money that night for charity at all. Unlike other communities we spend 364 days a year consistently giving to others. And one magic night celebrating it. And we'd like you to join us next year.
For Henry, it all started with a few committed donors who lead the way by giving monthly to Chive Charities, allowing us to extend that hand to the underdogs. We do it every week and use our megaphone to bring you their inspiring stories. Will you reach out a hand to our next inspiring underdog by donating as little as $5 monthly right HERE?
Thanks to all the Chivers who gave what they could to help Henry. This was a very personal story for me and the Chivers always deliver.
KCCO,
John