Last August, we introduced you to this avid gamer with an affinity for graphic design who also happens to have Spinal Muscular Atrophy (SMA), type 2.
When his disease was diagnosed just after his first birthday, Zack's family was shocked. They had no known history of the disease on either side of their families, and the gene that causes SMA is recessive, so both parents must have a copy of it in order for their child to have SMA. Looking back, the signs were there - weak muscle tone in Zack's legs, delayed motor skills, regression in physical development. But an SMA diagnosis never even crossed their minds.
Fortunately, despite the uncertainty of his condition, Zack really hit the jackpot when it came to his family. The primary goal was to keep him as active as possible for as long as possible. If that meant regular physical therapy appointments and access to the necessary medical equipment, they would find a way to get it done.
"A really big day for me was when I got my first power wheelchair just in time for my third birthday," he told us.
Zack's family also wanted to make sure he had the support he needed to excel in school, so they relocated the whole crew, including Zack's two older sisters, to Berea, Ohio - a district known for its inclusiveness for students with disabilities.
He would spend many of his school years attending after-school programs and summer day camps for kids facing their own challenges, and he absolutely loved it. He even attended camp away from home (much to his mom's delight and dismay) as part of the MDA Summer Camp at Camp Cheerful. Once again, his parents stepped up to be there for Zack, and his dad took a week off from work to serve as his son's aide.
Always the helpers, the Siek family identified a number of ways that the camp facilities could improve to be more wheelchair accessible. They were so thoughtful and thorough, the camp board later wrote a grant to implement some of the suggestions the Siek's made. As usual, Zack's family found ways to get things done.
Since those days of summer camp, Zack's life has been filled with memorable experiences. Though he has used a wheelchair since he was three years old, it hasn't kept him from pursuing his love for art, flying to California to meet his idol, Stan Lee, or even graduating with a BA from the Edinboro University of Pennsylvania.
Through every moment, he's had the support of his family. Beyond that, he's had their encouragement to seek independence and pave his own way. Whenever he hit a rough patch or needed some extra help, he knew who to call.
Two years ago, Zack realized his current power wheelchair - now more than six years old - was simply not going to cut it anymore. As he described it to us, the chair was "functional at best." The joystick mount is broken, the seat elevator no longer works, and the chair frame is unstable with a tendency to tip forward when at an incline. Clearly, that poses a serious safety issue for Zack.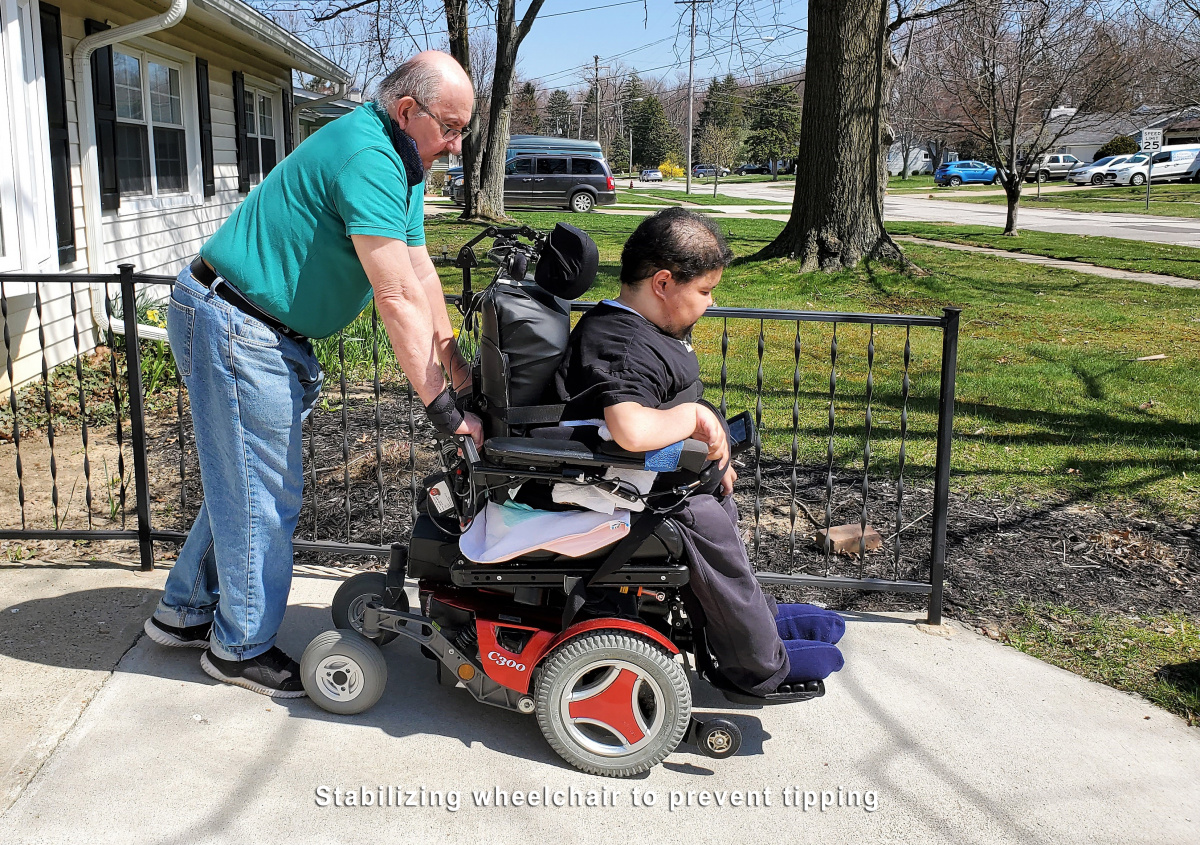 "Given the condition of my current wheelchair and the driveway at our house (which has broken concrete and large cracks in the surface), a trip anywhere is bumpy," he said. "I get jostled around and it makes it hard for me to keep my balance. Sometimes, the bumps knock my hand off of my joystick, and I'm not able to keep control of my chair unless I have someone there to put my hand back onto the control."
So, when his family realized insurance would not cover the cost of the updated chair features or driveway repairs, they found a way to get things done. They found Chive Charities.
These simple updates and repairs might seem trivial when compared with the impressive new ADA vans our community typically sees. But that's why Chive Charities and our donors are so impactful. It's not just the big grant items that make a huge difference in our recipients' lives. This wheelchair conversion and driveway repair will significantly improve Zack's quality of life and allow him the independence he's worked his whole life to gain. Is it flashy? No, probably not. Is it life-changing? Let's ask him:
"Thanks to the help of Chive Charities, I can finally get a new wheelchair that successfully meets my needs. My long-term goal is to maintain the level of independence that I have now. A stable wheelchair with the right features - and a driveway with no potholes or tipping hazards - will be the foundation for me to achieve that goal. I can't thank you all enough for helping me meet these challenges and live an easier life."
Thanks to our most impactful partner, STRATACACHE, and our Chive Charities donor family, Zack got the wheelchair conversion and new driveway he needed for a total impact of $14,097.
For the family who always does what it takes to get things done, we couldn't be happier to pay it forward to them.
From new driveways and wheelchair conversions to hyperbaric chambers and ADA vans, we've been changing lives with the support of our generous donors for more than eight years and counting. With your help, we'll do what it takes to get things done, too. Help us make the world 10% happier and become a donor today. DONATE HERE.